[vc_column_text width="1/1″ el_position="first last"]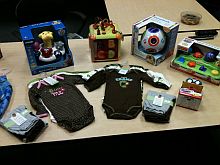 We end the year with a successful Holiday Outreach Program! Our Christmas Outreach was part of our overall Holiday Program which included adopting Sheep Dog families in need for Thanksgiving and Christmas. Our Christmas Outreach followed a successful Thanksgiving adoption of 12 families in need. We were able to provide these 12 families with a Turkey, Ham and all the trimmings for a wonderful Thanksgiving meal.
For Christmas we were able to make a difference in the lives of more than 23 children. All of these were children of men and women serving in the Military, Law Enforcement and Fire & Rescue. These children came from a variety of Sheep Dog Families in Need, to include a Police Officer in need from Chicago, Illinois, a fireman & soldier in need from Little Rock, soldiers & Marines in need from, Fort Smith, & Rogers, Arkansas and St. Louis, Missouri, just to name a few.
We would like to say a special Thank You to so many of our supporters who were willing to adopt several of our Sheep Dog Families in Need, and in doing so provide the children of these families with toys, clothes and an assortment of other gifts that helped make this a special Christmas for so many! Sheep Dog Impact Assistance depends on it's supports to make a positive impact in the lives of those in need, and this year our supports went above and beyond the call of duty. Thank you!
[/vc_column_text] [vc_column_text width="1/2″ el_position="first"]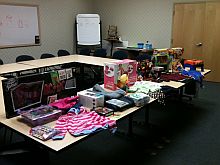 A few of the many gifts we were able to
provide to the children of Sheep Dogs in Need
[/vc_column_text] [vc_column_text width="1/2″ el_position="last"]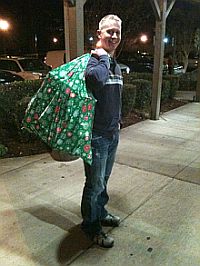 Dwayne Page before delivering gifts
to a soldier and his family in Fort Smith
[/vc_column_text]