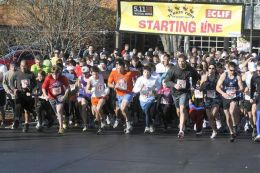 This years Annual NWA Turkey Trot exceeded ALL expectations! The race, benefiting Sheep Dog Impact Assistance and the Wounded Warrior Project, was a great success based on the number of people that attended the event. We were hoping for 150 to 200 participants and had more than 400! The Turkey Trot Charity Run & Fun Walk followed a very successful Thanksgiving Program that provided Thanksgiving meals to Sheep Dog families in need…military, law enforcement, fire & rescue and EMS personnel struggling through the holidays. We helped more than 40 families. The Turkey Trot is a major fund raiser for our Christmas Outreach program in which we adopt Sheep Dog families with children for Christmas, providing each child with 3 toys from their Christmas wish list, clothes, shoes, etc… Doing our best to ensure that they have a wonderful Christmas. This years Turkey Trot raised more than $6,000.00, ensuring that we will more than double the number of children we can adopt this year.
We would like to thank all of our race participants and sponsors for helping us make this years run the best yet! We could not accomplish our mission of assisting fellow Sheep Dogs in need without YOU! Thank you! Below is a list of our many sponsors if you are interested in supporting them for supporting us.
On a side note, we must apologize to our runners…we were hoping to post run times today but it does to look like it will happen. Unfortunately due to the overwhelming turnout, we were not as prepared as we could have been, or will be in the future, and our record keeping for run times has failed us. We are truly sorry for the mistake and are committed to correcting and investing in the proper equipment needed to make next years race a success with regards to our management of run times. We will grow and improve with each years event. Our goal is to make the NWA Turkey Trot the BEST annual Thanksgiving run in the region. We do have the 1st, 2nd & 3rd place finishers by gender and age annotated correctly and will be mailing Turkey Trot medallions this week.
Thank you again to everyone for making the years event the best Turkey Trot in all of Arkansas, we look forward to seeing you at next years race. We have race pictures posted on our Facebook Page if you would like to see more Turkey Trot photos.
Race Winners:
Male– 12 and under
1st-Kyle Cutsworth
2nd- Blake Williamson
3rd- Sam Crain
Male – 12 to 19
1st – Kevin Webb
2nd – Woodrow Murray
3rd – Kyle Wbb
Male – 20 to 29
1st – Jacob Rutledge
2nd – Brooks Rahmer
3rd – Jim Addington
Male – 30 to 39
1st – Mike Rahmer
2nd – Hugo Morales
3rd- Lee Wood
Male – 40 to 49
1st – Fred Rahmer
2nd – Jeff Whittinghill
3rd – John Lockwood
Male – 50 to 59
1st – Aniz Pedroza
2nd – Jerry David
3rd – Charles Halliburton
Male – 60 +
1st – Mike Christenson
2nd – Rudy Rinderer
3rd – Frank Hysell
Female – 12 and under
1st – Lauren Rabel
2nd – Mia Bergman
3rd – Julianne Rabel
Female – 12 to 19
1st – Danielle David
2nd – Maggie Jung
3rd – Lindsey Bradford
Female – 20 to 29
1st – Kelly Petras
2nd – Alex Dusseau
3rd – Meghan Canida
Female – 30 to 39
1st – Nicole Rushton
2nd – Dawn Ptak
3rd – Melissa Lewis
Female – 40 to 49
1st – Connie Townsend
2nd – Tracy Lavelle
3rd – Lauren Pickell
Female – 50 to 59
1st – Sandy Rinderer
2nd – Karen Kelly
3rd – Susan Rutledge
Female – 60+
1st – Mary Geisler
2nd – Betty Williams
Sponsors:
5.11 Tactical
Louie's Grill of Rogers
Walmart
Aurora Tactical
Parisi Speed School
Englander dZignPak
Bank of America
Clif Bar
Accents Salon
WSP Inc.
EIP & Western Container
Best Maid
Game Exchange
Sara Lee