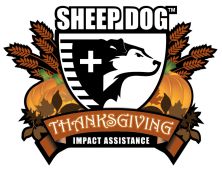 It's that time of year again! Time to begin planning for our Thanksgiving meals to fellow Sheep Dogs in Need. Project Giving is the theme of this years Thanksgiving effort to provide meals to any military, law enforcement, fire & rescue or EMS family struggling through the holidays. Our goal this year is to double the number of families we can support…50 families is our goal, ultimately shooting for 60 if at all possible. The greatest need at this point, is identifying Sheep Dog families that actually need our assistance. If you know of a worthy Sheep Dog family struggling this holiday season, please let us know as soon as possible. They will receive a full Turkey, Ham and all the trimmings…which includes 2 pies, corn, green beans, stuffing, potatoes, and much more!
If you are interested in sponsoring/adopting a Sheep Dog family for Thanksgiving, a $60 donation will feed a family of six with everything we listed above.
Immediately following our Thanksgiving program we will gear up for our Christmas Outreach, providing toys to children of struggling Sheep Dog families. Last year we were successful in meeting the Christmas wishes of more than 30 children…we would like to double that this year. And as always, we need your help finding the families with the greatest need.
If you have questions or concerns please feel free to contact us at info@SheepDogIA.org, or 479-466-9713. Thank you for your support!