It's that time of year again, Sheep Dog Charity Ball time!! We hope to see you at this years 2014 2nd Annual Sheep Dog Charity Ball. Please see information below regarding dates, times, cost, location, etc. Let us know if you have questions or concerns, we will be more than happy to accommodate as needed.
Event: 2nd Annual Sheep Dog Charity Ball
Event Link: http://www.SheepDogCharityBall.eventbrite.com
http://www.eventbrite.com/e/sheep-dog-2nd-annual-charity-ball-tickets-9428698491
Date & Time: Saturday, February 15th, 2014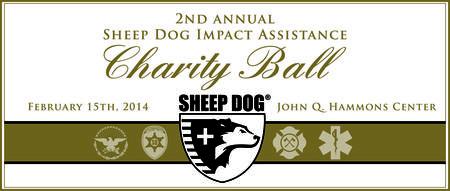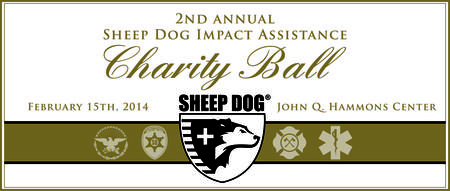 Cocktail Hour starting at 5:00 PM
Ceremony will begin at 6:00 PM
The party will end at 11:45 PM
Ticket Prices: SDIA Members & Volunteers – $47.00 each
All current and former Military & First Responders – $55.00 each
General Admission/Public – $65.00 each
Tables of 8 – $450.00 each
Location: John Q Hammons Center- Rogers, AR.
Guest Speaker: Tracy A. Reinhold – Tracy joined Walmart Corporate in Bentonville, AR as the Vice President for Global Investigations upon retiring from the Federal Bureau of Investigation. Prior to joining the FBI, Tracy served five years in the United States Marine Corps and obtained a BA in Modern European History from the University of Maryland. Learn more about Tracy at http://sheepdogia.org/tracy-a-reinhold/
Dress Code: Black Tie Event – Military and First Responders are encouraged to wear their Dress Uniform. Civilians should wear formal attire, tux or black suit.
Organizers: Sheep Dog Charity Ball Committee, comprised of Northwest Arkansas community volunteers and philanthropists,
geared towards recognizing the commitment & sacrifice made by our military, law enforcement, fire & rescue, and
EMS personnel.
Participants: Military, law enforcement, fire & rescue and EMS units and personnel from across the region. Supporters and
sponsors of Sheep Dog Impact Assistance.
Amenities: Guest Speaker, entertainment/music, silent auction, dinner and dancing. SDIA has a block of rooms reserved at Embassy Suites in Rogers. You can reserve a room by contacting the Embassy Suites at http://www.hilton.com/search/es/us/ar/rogers?WT.srch=1 If you call, reference SD2 as our code for our room block.
Beneficiaries: Sheep Dog Impact Assistance, headquartered in Rogers, focuses on supporting the unique needs of our veteran "Sheep Dogs"; society's protectors, the men and women that form the ranks of America's military, law enforcement, fire & rescue, and EMS. Disaster relief missions, and disaster preparedness education classes for communities in need, are an additional part of their mission. Helping Others is a Way of Life
Sheep Dog IA is a nonprofit, nonpartisan organization.
Please contact Lance Nutt with questions or concerns:
Cell – 479-466-9713
E-mail – Lance@SheepDogIA.org