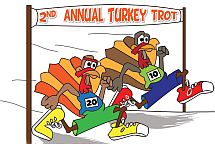 5K Charity Run and Fun Walk
November 25th, 2010 8:00 AM
Sponsored by: Center for Nonprofits & Fuse Fitness Center
Benefiting:
The Children's Shelter
Sheep Dog Impact Assistance
Arkansas Visitation and Exchange Center
The Northwest Arkansas Turkey Trot second annual 5k Run and Fun Walk is just a few days away. The run will take place on Thanksgiving Morning at the Center for Non Profits (the former St. Mary's Hospital) on Walnut in Rogers, AR.
Visit our web site at www.NWATurkeyTrot.org for information about the race, to register for the race, and for the names of the organization's sponsored in this event. We are happy to answer any questions or provide information regarding the event. We welcome calls or emails expressing interest. Please feel free to contact any one of the following organizers:
Mike Trexler of Fuse Fitness Centers
mtrexler@fusewellness.com or 479-845-8000;
Lara Sandusky of Arkansas Visitation and Exchange Center
lara_sandusky@yahoo.com or 479-586-1238 & 479-845-8000
Lance Nutt of Sheep Dog Impact Assistance
Lance@SheepDogIA.org or 479-466-9713
NORTHWEST ARKANSAS TURKEY TROT 2010
GOBBLE FACTS
Event: Our race features a 5K run & fun walk located in the heart of Rogers, AR.
Date & Time: Thursday, November 25th, 2010 at 8:00 AM
Course: Center for Nonprofits through downtown Rogers and back to the CFN.
Organizers: The Turkey Trot Committee, comprised of Northwest Arkansas community volunteers and philanthropists, seek to provide a fun family fitness event in support of area non-profits.
Participants: Our event will host hundreds of competitors and their family and friends, in addition to the volunteers and spectators who will certainly make this a fun filled event.
Amenities: All participants receive a goody bag containing a t-shirt and a list of all sponsors and other cool stuff. Sponsors are also encouraged to put in an add, or a coupon good for their business, even pens, pencils, or water bottles or other promotional item if you chose to promote your business that way. Trophies go to the overall men and women's winners, 1st, 2nd, and third place in all age group categories, and 1st, 2nd, and third place to team categories.
Beneficiaries: Arkansas Visitation and Exchange Center (AVEC) located in Bentonville, AR is a center in which children impacted by domestic violence are able to visit their non custodial parent in a safe and secure environment. The Children's Shelter, located in Vaughn, serves Northwest Arkansas most vulnerable citizen, our children. These children, having suffered from abuse and neglect, find peace and love within the halls of the Children's Shelter. Sheep Dog Impact Assistance , headquartered in Rogers, AR supports the needs of our veteran "Sheep Dogs"; society's protectors, the men and women that form the ranks of America's military, law enforcement, fire & rescue, and EMS.