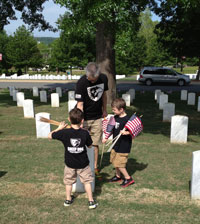 Flag Planting at national cemeteries on Memorial Day weekend are quickly becoming a proud tradition for the members, volunteers, and supporters of Sheep Dog Impact Assistance. Saturday, May 25th was one of those memorable days, a day of learning and remembering. It is important that we never forget the sacrifice made by so many of our nation's finest, and opportunities like this will ensure that we never do.
After the Flag Planting, many of our members visited Veterans Homes to say Thank You in person to our nation's older veterans. Remembering the sacrifices made by many of our living vets is just as important as remembering those that died. Never forget!
Pictures from the Flag Planting:
http://www.facebook.com/media/set/?set=a.524248017611775.1073741830.118696028166978&type=1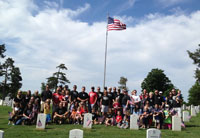 While many of our members and supporters were at the National Cemetery, our NWArk Chapter held its 1st Annual Memorial Day WOD (Workout Of the Day). They had a great turnout and overall event. The best part of the event was the opportunity to honor three fellow Sheep Dogs who had either made the ultimate sacrifice through their efforts to help fellow Sheep Dogs and their country, or are continuing to deal with personal challenges.
The NWA Chapter also partnered with the Benton County PAL Program, a program designed to help today's youth and encourage physical fitness. A portion of the proceeds from the event will go to the PAL program. A BIG Thank You to everyone that came out in support of this years WOD. We look forward to seeing everyone again next year!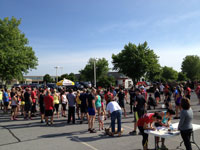 Pictures from this event:
http://www.facebook.com/media/set/?set=a.525274220842488.1073741831.118696028166978&type=1
Our SDIA Crystal Coast Chapter also held their 1st Annual Memorial Day WOD at CrossFit Morehead City. They had a tremendous turnout for their first WOD and are already making plans for next year. Great job team!
Pictures from their WOD:
http://www.facebook.com/pages/Crystal-Coast-NC-Sheep-Dog-Impact-Assistance/349921868425462?fref=ts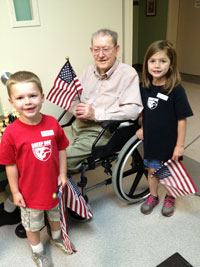 Memorial Day weekend is and will forever remain an important time for SDIA. We will always use this special weekend and day to remember the sacrifice made by so many of our military men and women. We hope that you will join us for future events as we do our very best to Never Forget!