UPDATE: JULY 2017
Following is important information pertaining to the upcoming Washington DC/MCM Outdoor Adventure. Please read this in its entirety carefully.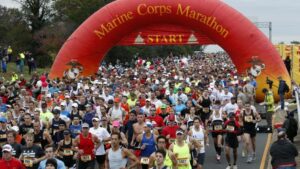 10K and Marine Corps Marathon (MCM) – Sun., Oct. 22
Race registration fees must be paid (via donation to SDIA) no later than July 22. Fees are: 10K $55; and Marathon $160. To pay your fee(s), click here; please make a notation of the participant's name(s) and race(s) in the 'Add a Note' section. After you've made your payment, email ABullard@SheepDogIA.org with the amount paid, name(s) of participant(s) and which race each person is participating in.
All runners will have 6.5 hours to complete their race; after this time, the District of Columbia will reopen the streets to normal traffic. This is applicable to all running and there are no exceptions. Please take this into consideration as you prepare and train for your race.
Get started with your training! It is highly recommended and encouraged that each runner be actively training for their race. Training schedules for both races can be found here: 10K Training Program; and Marathon Training Program.
Stay up-to-date on all things DC/MCM related! Join the SDIA Facebook Group named "2017 Washington DC Outdoor Adventure" for an extra line of communication. This group is a platform for encouragement, questions, banter, etc. – and more than likely, an excessive amount of running memes.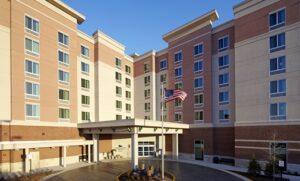 Lodging We will be staying at the Homewood Suites in Springfield, VA (7010 Old Keene Mill Rd, Springfield, VA 22150; (703) 866-6045). A block of rooms has been reserved for our group; to secure your room reservation(s), please submit a non-refundable $200 room deposit per room needed no later than Aug. 15. To pay your room deposit, click here; in the 'Add a Note' section, make a notation of the name(s) of the people staying in each room. After you've made your payment, email ABullard@SheepDogIA.org with the amount paid, name(s) of the people staying in each room. These monies will be applied to your trip costs; any balance remaining at the end of the trip will be refunded to the individual.
Air Travel
We encourage everyone requiring air travel to fly into Reagan National Airport (Code DCA). If you haven't purchased your airline tickets, please do so as soon as possible as fares will increase as we get closer to the trip date. Once you have purchased your flights, please send the itinerary to ABullard@SheepDogIA.org so that we can arrange transportation for all participants.
DEADLINE TO PARTICIPATE was JULY 15th!!! We will not be able to take any other travelers after this date.
If you have any questions, please email ABullard@SheepDogIA.org.
MAY 3, 2017
Join us on a powerful Outdoor Adventure touring our Nation's Capital and enduring the Marine Corps Marathon (MCM)!
SDIA will sponsor TWENTY (20) Sheep Dogs injured in combat or the line of duty to participate in this unparalleled and exhilarating Outdoor Adventure. In addition to the scheduled tours, there are two Marine Corps Marathon race options:
Full Marathon (26.2 miles) – registration $160; and
10K (6 miles) – registration $55
No matter which race you choose, pushing through the miles will forge a bond with fellow runners, creating incredible memories that will last a lifetime!
Trip details to date are as follows.
Questions and registration inquiries should be directed to Amanda Bullard at (417) 540-8808 or ABullard@SheepDogIA.org. NOTE: Those interested in participating must contact SDIA to register for the MCM; SDIA will facilitate all registrations. Those who register on their own will not be able to run with the SDIA teams. Registration fees are the responsibility of the individual.
SDIA's Outdoor Adventure to Washington, DC & the Marine Corps Marathon
TRAVEL DATES – October 19-23, 2017
PRICE (estimate only) – $1,000; price estimate includes the following.
Estimated airfare; three airports serve the DC area – Ronald Reagan Washington National Airport (DCA), Washington, DC; Baltimore/Washington International Thurgood Marshall Airport (BWI), Baltimore, MD; and Washington Dulles International Airport (IAD), Dulles, VA
4 night's lodging (hotel TBD; room type options – single, double, triple or quad occupancy)
8 meals
Guide service on tours
Tour entrance fees (taxes & tips, too)
Motorcoach transportation (limited availability); Uber, Lyft, taxis and public transportation are also available
SCHEDULED TOURS – National Museum of the Marine Corps, Arlington National Cemetery, George Washington's Mount Vernon, National Mall, Pentagon
Race course maps and more information on the races are available on the Marine Corps Marathon website.