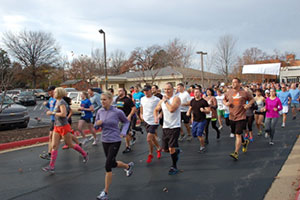 Our 2012 Annual NWA Turkey Trot and Wild Gobbler exceeded ALL expectations! The race, benefiting Sheep Dog Impact Assistance and our Assisting Sheep Dogs in Need Program, was a great success based on the number of people that attended the event. We were hoping for 450 participants, and ended up with more than 600 runners, walkers and Wild Gobblers.
This years Turkey Trot followed a very successful Thanksgiving Program that provided Thanksgiving meals to Sheep Dog families in need … military, law enforcement, fire and rescue and EMS personnel struggling through the holidays. We fed more than 300 Sheep Dogs and their family members.
The Turkey Trot itself is a major fundraiser for our Christmas Outreach Program where we adopt Sheep Dog families with children for Christmas, providing each child with 3 toys from their Christmas wish list, clothes, shoes, etc… Doing our best to take the pressure off the parents and provide the children with a wonderful Christmas. This years Turkey Trot raised more than $8,000.00, ensuring that we will be able to increase the number of children we can adopt this year.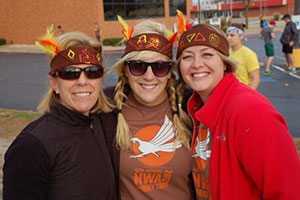 We would like to thank all of our race participants and sponsors for helping us make this years run the best yet! We could not accomplish our mission of assisting fellow Sheep Dogs in need without YOU! Thank you!
You can see your race time at http://www.racewizard.com/races/race-results/
One a side note, this year was our first to add the Wild Gobbler. We were very happy with the turnout, more than 100 participants, and are exited to host the event again next year. Through the Wild Gobbler alone we were able to honor and raise money for more than five specific Sheep Dogs and their families.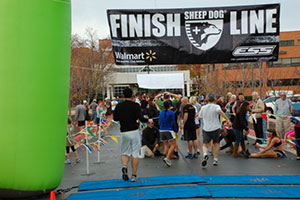 Thank you again to everyone for making this years event the best Turkey Trot in all of Arkansas, we look forward to seeing you at next years race. We have race pictures posted on our Facebook Page if you would like to see more Turkey Trot photos.