[vc_column_text width="1/1″ el_position="first last"]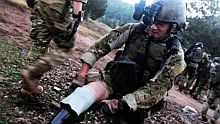 By Gregg Zoroya
FORT BENNING, Ga. — From the moment his broken body was pulled from an armored vehicle in Iraq — after an enemy grenade, dropped through a hatch, detonated inches away —Army Ranger Joseph Kapacziewski vowed to be back in the fight.
"Is this going to ruin my chances of being a squad leader?" he asked as he was carried into a medical ward.
The soldier's lower right leg was shattered. Nerve damage left his right arm useless. And from hip to upper thigh, the flesh was shredded by the blast.
It was 2005, and doctors feared Kapacziewski (pronounced Capa-CHESS-ski) would never walk, much less be able to remain in the elite, physically demanding Army Rangers.
Visitors to his hospital room at Walter Reed Army Medical Center heard his vow to rejoin his unit. They nodded, smiled, admired his spunk and didn't seem to believe a word, says his wife, Kimberley.
But he wasn't trying to impress.
"I don't like people telling me I can't do something," he says.
Even if it meant choosing in the months ahead to have his leg cut off — so that with a prosthetic he could still jump out of airplanes, rope down from helicopters or fight along 10,000-foot mountain ridges.
Fast-forward five years to the morning of April 19, 2010, to a village in eastern Afghanistan.
With help from his false leg, Sgt. 1st Class Kapacziewski, 28, races down an Afghan road through enemy fire to reach a fellow Ranger who had been shot in the stomach. Along with another soldier, they drag the wounded man 75 yards to safety and administer first aid as insurgents with heavy machine guns try to kill them.
The action earns Kapacziewski an Army commendation medal with a "V" for valor.
The story of Joe Kapacziewski's rebirth as the only Army Ranger serving in direct combat operations with a prosthetic limb is more than a tale of will power and physical hardship.
It also is the story of a young man with a natural insensitivity to morphine whose screams of pain brought nurses at Walter Reed to tears. It is about a bedridden patient, his leg held together by rods and pins, doing stomach crunches.
It is a story about Kimberly Kapacziewski, 30, agonizing over her husband — already wrecked once by war, yet striving so hard to get back into it.
And it is about a soldier who says his dream is just to be a soldier — and not a war hero-slash-amputee.
Kapacziewski understands the Army's desire that he tell his story to inspire others, but that hasn't really set well with him.
"I really worked so hard to be a good soldier," he told his wife recently. "I'm afraid (now) everyone thinks of me as an amputee."
A post-9/11 enlistee
The Army's 75th Ranger Regiment is the only fighting force in the U.S. military that has been continuously in combat since war began after the terror attacks on Sept. 11, 2001. At any given time, one of its three battalions has been in Iraq or Afghanistan.
May 18 marked 3,500 consecutive days of regimental combat operations.
The 3rd Battalion, of which Joseph "Kap" Kapacziewski is one of 12 platoon sergeants, just finished its 15th deployment since 9/11.
Kap was there from the start, enlisting after high school graduation in Bristol, Conn., during the summer of 2001.
After his parents divorced and then his father, who was raising him, died in a car accident when Kap was 12, the boy was raised by a grandmother and step-grandfather.
Several weeks after joining the Rangers he was in Afghanistan and, later, parachuted into Iraq during the 2003 invasion.
Twenty-four hours before leaving on that mission, Kapacziewski met a horse trainer, Kimberly Smithwick, at a sports bar in Columbus, Ga.
When he suddenly vanished overseas for four months, she thought she'd never hear from him again. But he called the day he returned from Iraq and they have been together — except for the demands of war — ever since. They married in July 2005, shortly before he left on his fifth deployment to northern Iraq.
He was ambushed two days before he was to come home.
Insurgents on a highway overpass opened fire with machine guns and tossed down grenades. One fell through the open hatch of a Stryker vehicle, exploding inches from Kap's right side.
"I remember it all," he says now.
In a flash, shrapnel blanketed his right side. Nearly every bone in his lower right leg was broken and a major artery cut in his right arm. Two other Rangers were hurt.
Blood gushing from his arm, Kap directed by radio that his vehicle be driven below the underpass, out of the line of fire, and then he alerted others in the convoy to attack.
Only then did he accept medical aid.
For his actions, Kap received a Purple Heart.
Kimberly got a phone call and a trip to Walter Reed.
Enduring the pain
"I didn't realize that people suffer the way they do," she says of that time.
She would live with her husband, sleeping in his hospital room, for six months as doctors pieced him back together.
Kap has a natural intolerance to the relief of morphine, Kimberly says. There were times after surgery when his pain ratcheted out of control.
"I just remember him being in there screaming," she says of one night when doctors and nurses crowded into his room trying to ease his suffering.
"I had nurses coming out to me in the hall telling me if they give him more pain medicine he's going to die, he's going to stop breathing," Kimberly recalls.
For months, doctors thought Kap had lost the use of his right arm because of nerve damage. But then he managed to wiggle a finger, and slowly, much of his sensation and most of strength returned to that limb.
As a consequence, he had Kimberly wheel him down to the hospital's basement where there is a mock shooting range with a laser-equipped M-4 rifle. For hours every day, Kap would lie behind sandbags and fire the weapon, teaching hands and fingers that had lost feeling how to once again handle a weapon.
But returning to Ranger duty remained an elusive dream. He left Walter Reed with pins and external rods still holding his right leg together.
When the external rods were finally removed and he tried trotting on the leg, he could hear pins holding the ankle bones together snap.
"That was sort of the darkest time," Kap recalls.
He knew about a small, growing trend in which troops choose to have limbs removed in order to improve mobility with a prosthetic.
After months of internal debate, Kap met with an orthopedic surgeon at a Naval hospital in Portsmouth, Va., and laid out his vision.
"I was like, 'This is what my plan is. This is want I to do. These are my goals. I would like for you to do it,'" he told the doctor.
In March 2007, his right leg was removed 10 inches below his knee.
The road back to action
Kimberly says she could not oppose Kap going back to war on one leg.
"I think that would destroy him."
As the months passed and her husband's strength and mobility improved, his dream became tangible.
"It was something I would talk to my mom and my sister about," she recalls, "saying, 'It's so tough, because this is all he wants. But he's got to be kidding me. … I think we've done our time. I think we've done our fair share. I don't want to get a phone call again.'"
The Rangers were skeptical. No one in Kap's condition had qualified for a return to direct combat.
There are two other amputees serving in the Rangers, but neither is qualified for direct combat operations.
One of them is Sgt. 1st Class Leroy Arthur Petry, who has been nominated to receive the Medal of Honor after he lost his right hand when he retrieved and threw away a live grenade, saving the lives of other Rangers during 2008 fighting.
In striving to be the first amputee to serve in combat, Kap "had to be able to physically perform to the same standards as other Ranger leaders — he did not get a 'waiver' or 'special consideration,'" says Col. Michael Kurilla, commander of the regiment.
"There was a lot of doubt after he came back," says Command Sgt. Maj. Eddie Noland, senior enlisted officer for the 3rd Battalion, "whether he could actually go on target and do the things that everybody else was doing."
But Kap pushed himself and met the standards.
He ran five miles in under 40 minutes and hiked 12 miles with a 40-pound rucksack in three hours. He parachuted from aircraft, initially worrying that wind shear might pull off his false leg.
And he roped down a 50-foot line carrying 60 pounds, learning the hard way that because he can't slow his descent with one foot and a prosthetic, he needs two pairs of gloves to grip harder with his hands.
"He had that light at the end of the tunnel and he wasn't going to stop until he got there," Noland says.
"I guess I'm just stubborn," Kap says.
Kimberly still recalls the early morning in 2009 — two weeks after the couple's first son, Wyatt, was born — when Kap left for his first combat deployment with a prosthetic.
As they walked through the darkness across their front lawn, Kap stumbled over a stump and took a hard fall .
The couple, accustomed to saying good-bye, usually keep it brief and unemotional. But seeing her husband on the ground, Kimberly began to cry.
"I was like, 'This is such a bad idea,'" she says. "I mean are the mountains of Afghanistan the best idea we've had?"
'I'm living the dream'
Kap — now the father of two young boys, Wyatt and Cody, who is 8 months old — just finished his fourth deployment as an amputee a few weeks ago.
Because of a wound by a ricochet bullet early in his career and a more recent shrapnel wound from an enemy grenade during a firefight, Kap now has three Purple Hearts.
"He often jokes that if he is shot in his prosthetic leg he can just change it out. He carries a spare leg with him on missions," Kurilla says.
Life is more complicated now.
Just getting out of bed to walk is an elaborate process. First there's a thick neoprene liner that must cover the residual limb. It can be hot and sweaty and prone to causing sores if left on too long. And then there's the prosthetic and over that, a long, elastic sleeve extending to the thigh.
But the upside is being back with his Rangers, Kap says.
In the field, "there's a light in him that comes on," Kimberly says.
He even gets excited packing his bag to leave, she says.
"I'm living the dream," Kap says. "I feel like I started this war. I want to see it finished out with my buddies, with my friends. We made a commitment."
[/vc_column_text] [vc_column_text width="1/3″ el_position="first"]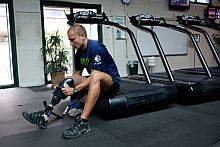 Sgt. 1st Class Joseph Kapacziewski adjusts his
prosthetic leg before a workout at
Walter Reed Army Medical Center
[/vc_column_text] [vc_column_text width="1/3″]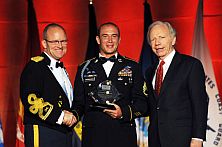 Sgt. 1st Class Joseph Kapacziewski
receives the 'No Greater Service'
Freedom Award by Col David Sutherland, left,
and Sen, Joseph Lieberman, I-Conn.
[/vc_column_text] [vc_column_text width="1/3″ el_position="last"]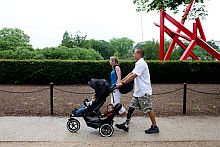 Kimberly and Joseph Kapacziewski, and their sons
Wyatt, 2, and Cody, 8 months, walk on the
National Mall in Washington, D.C. Kapacziewski,
an Army Ranger, was in town to be honored by
No Greater Sacrifice, a veterans support group
[/vc_column_text]