CHAINSAW SAFETY WORKSHOP – May 2nd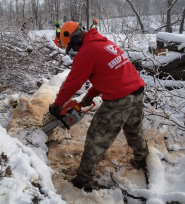 Sponsored by: Sheep Dog Impact Assistance
Emergency Responders, Road Crews, and everyone operating a chainsaw are encouraged to join us at a free workshop that will be especially valuable in light of all the storm-damaged timber from previous year's disasters. Each workshop is free and lunch will be provided. See below for additional information.
Our instructor Dana Hinkley, of Berlin, New Hampshire has done numerous safety workshops in Arkansas and across the nation since 2001. Hinkley is the president of the nationally recognized Logger Rescue Inc.
This program has been approved by the Arkansas Fire Academy for 8 hours of Certified Training credit.
Schedule:
8:30 am Registration
9:00 am Safely Operating a Chain Saw – Presentation covering all safety and handling aspects of operating a chain saw, along with the vital importance of wearing PPE (Personal Protective Equipment)
12:00 – 1:00 Lunch
1:00-1:30 pm Safely Operating a Chain Saw (continued)
1:30-3:00 pm Tree Felling Demonstration – "Hands-on" technique for safely felling and handling difficult and storm damaged trees.
To register or for more information on the workshop, please contact Rick Bostian prior to the workshop *
Location:
Center for Non-Profits
1200 W. Walnut Street
Rogers, AR 72756
Date:
May 2
Local Contact:
Rick Bostian
479-422-0462
rickbostian@gmail.com