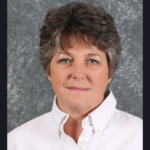 Rogers, AR (February 20, 2019) – Sheep Dog Impact Assistance (SDIA) is pleased to announce that Cheryl Nimmo has joined the National Office Staff as our Bookkeeper on a volunteer basis. She will assume responsibility for the National Office's bookkeeping, and will also work with SDIA's Team and Chapter accounts.
Cheryl has extensive experience in accounting which began in 1992 when she started working with the University of Arkansas (UA). During her career, her skills and knowledge of accounting were used in managing both federal and state-funded research awarded grants, as well as managing departmental state-funded budget accounts. At one time, she managed budgets in seven different departments in the College of Education, as well as assisted with building management of five UA buildings. Since September 2013, Cheryl has worked in the Technology Commercialization Office for the Division of Agriculture as Fiscal Support Analyst.
After her middle son, Michael, joined the SDIA team, Cheryl knew she had to get involved, too. Seeing how positively and deeply Michael was impacted by participating in SDIA programs convinced her she needed to give back to the organization that helped her son. She has volunteered at fundraising events like War Eagle Craft Fair, has spent hours assisting those deploying on Disaster Response Missions prepare for their trips, as well as volunteering at the Turkey Trot for Heroes 5K, and the Heroes Gala.