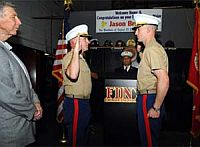 NEW YORK — When FDNY Firefighter Jason Brezler was to be promoted to Major in the Marine Corps Reserves, he was told he could choose where the ceremony would take place.
He said he immediately knew where he wanted it, but it wasn't the Iwo Jima Memorial, his unit in Washington D.C. or even where he was stationed in Afghanistan. He chose his firehouse, Engine 45 and Ladder 58 in the Bronx.
"Why do this [ceremony] in a garage in the Bronx?" Firefighter Brezler said following the June 18 ceremony. "I'm proud to be part of two of the greatest organizations in this country – the FDNY and the USMC. Some of my best friends are here. For me, it made perfect sense."
Dozens of family and friends attended the ceremony, where Firefighter Walter Powers, who also works at Ladder 58 and is a Lieutenant Colonel in the U.S. Marine Corps, officiated.
"I've been in the Marine Corps for 22 years, and I can honestly say this is one of the proudest moments of my life," said Firefighter Powers.
Fire Capt. John Vigiano, who also was a Marine and is Firefighter Brezler's Godfather, and Stephen Brezler, the firefighter's father, participated in the ceremony.
Firefighter Brezler was raised in Baltimore, Maryland, and is a third generation firefighter. He graduated from the U.S. Navel Academy and joined the Marine Corps in 2000. He became a firefighter in 2005, and has served two tours in Iraq and one in Afghanistan, from which he recently returned.
"He's a firefighter you can always count on," said Capt. Joseph Principio from Ladder 58. "This is a great honor for us."