GUEST SPEAKER – SGT SERGIO TREJO (US Army, Ret.)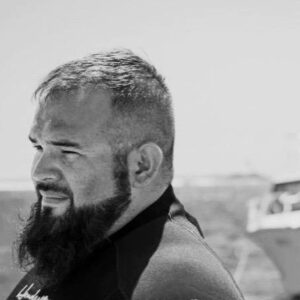 Sergio Trejo was born in a Mayan village in Mexico, and moved to Chicago, Illinois, with his family as a young boy. In sixth grade he joined a gang, but fortunately for him, his family moved to a Houston, Texas, suburb after he graduated 8th grade.
Being a street-smart kid, Trejo looked for a challenge in his new hometown, and football was it. Through football, he learned to respect authority, take orders, and push his limits – both physically and mentally. He was a senior in high school when the 9/11 terrorist attacks happened, and he enlisted in the Army on the one-year anniversary. Stationed at Ft. Carson, Colorado, he was assigned to the 4th Infantry Division – some of the first units to push into Iraq in early 2003 – and was attached to the famous 88nd Airborne Division to support a Ranger platoon carrying out missions in Northern and Central Iraq.
After his first deployment and back stateside, Trejo was highly motivated to expand his knowledge to become a better soldier. While taking all the classes he could, he met and married his wife, and their first child was born in December 2005 while he was in Kuwait.
Prepping for his second deployment, Trejo felt as if life was at an all-time high – he was married, had a beautiful baby girl, loved his job and was highly motivated. However, during his second deployment, he was involved in three serious incidents when the vehicles he was in were hit by improvised explosive devices. Three times a chaplain and two unit representatives had to go to his home and notify his wife of his life threatening injuries…that he might not make it home alive.
After the third incident, SGT Trejo was medically evacuated to Germany with many serious injuries, including paralysis, a spinal fracture, pinched & torn spinal nerves, and a traumatic brain injury. Initially, doctors felt his paralysis would be permanent; however, after a few months he began regaining control of both arms, and then his legs. Within six months he was walking and trotting, though he still had trouble talking. After more than a year of rehabilitation and recovery, he was medically retired from the Army in 2010, and was awarded the Purple Heart, two Army Commendation Medals with two Valor devices, and many other awards.
After retirement, Trejo continued his physical therapy and recovery, but felt lost. He was extremely angry and hyper vigilant, and felt he had no purpose. One day at physical therapy, an old crusty Army Ranger from the Vietnam war challenged him to SCUBA dive, and after a time, he did. In the water he had a sense of peace he hadn't felt in a very long time. He continued to dive, and he and his wife founded Tre Charters in 2014 to share these experiences on the water with other combat veterans and families. With modifications made to their vessel to allow amputees and paraplegic veterans go offshore, they now take fellow combat-wounded veterans SCUBA diving and deep sea fishing out of Galveston, Texas.
Trejo has been a member of Sheep Dog Impact Assistance since 2013 and credits them with helping him #GetOffTheCouch and live life more fully. Spending time and bonding on Disaster Response Missions and Outdoor Adventures with fellow Sheep Dogs– many of whom had injuries more severe than his own and were pushing themselves and doing more with their lives – motivated him to get in shape, push himself, and start helping fellow veterans. In 2017, Tre Charters was an integral part of rescue and evacuation efforts of people stranded in their homes following Hurricane Harvey's devastation of the Houston area.
Trejo lives in Galveston, Texas, with his wife of 15 years, Jessica, and their three children (Trinity, David, and Timothy), and two dogs. In his spare time, you can find Trejo powerlifting or spending time with his family in and on the water free diving, snorkeling and SCUBA diving.