We are very excited to announce that the 4th Annual Sheep Dog Impact Assistance (SDIA) Charity Ball is being held on Friday, April 22, 2016, at the Embassy Suites in Rogers. This formal fundraising event is held to celebrate SDIA's accomplishments from the previous year, and recognize those members, volunteers and supporters who live out the Sheep Dog motto, "Helping Others is a Way of Life." The Ball is open to all military and first responders, SDIA members and supporters, as well as the general public.
The Charity Ball is similar in format to a military ball, and includes dinner, an awards ceremony, silent auction, dancing and more. The Sheep Dog of the Year awards presented will honor those from across the nation in the Military, Law Enforcement, Fire & Rescue, and EMS professions who exemplify our motto. Awards will also be presented to our Volunteer, Community Partner and Sponsor of the Year.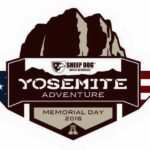 Last year nearly $16,000 was raised during the Charity Ball; this money was used to fund our disaster response missions and Sheep Dog in Need programs. This year we hope to double that amount as we begin our 2016 PTSD Awareness campaign, focusing on the devastating effects of PTSD, not only in our military, but also in our first responder communities. As part of this awareness campaign, we will sponsor 35 combat wounded veterans and first responders injured in the line of duty on a backwoods adventure of a lifetime in Yosemite National Park May 29-June 2. (More on that in the coming days!)
Tickets to the Charity Ball are $50 for SDIA members/volunteers, $60 for non-SDIA member Sheep Dogs, and $75 for the general public. Tables of 10 are available for $650. For more information and to purchase tickets to this inspirational event, visit the 4th Annual SDIA Charity Ball Eventbrite page. To see what you missed at last year's Ball, click here.
Want to sponsor a portion of the event? Please contact Jayme Lingo at (740) 502-7475 or JLingo@SheepDogIA.org. We would love to have your support!
Or perhaps you'd like to sponsor a Sheep Dog couple to attend – for $120, you could help a combat wounded veteran or first responder injured in the line of duty and their spouse be a part of an evening they won't soon forget.
We look forward to seeing YOU at the 4th Annual SDIA Charity Ball on April 22!