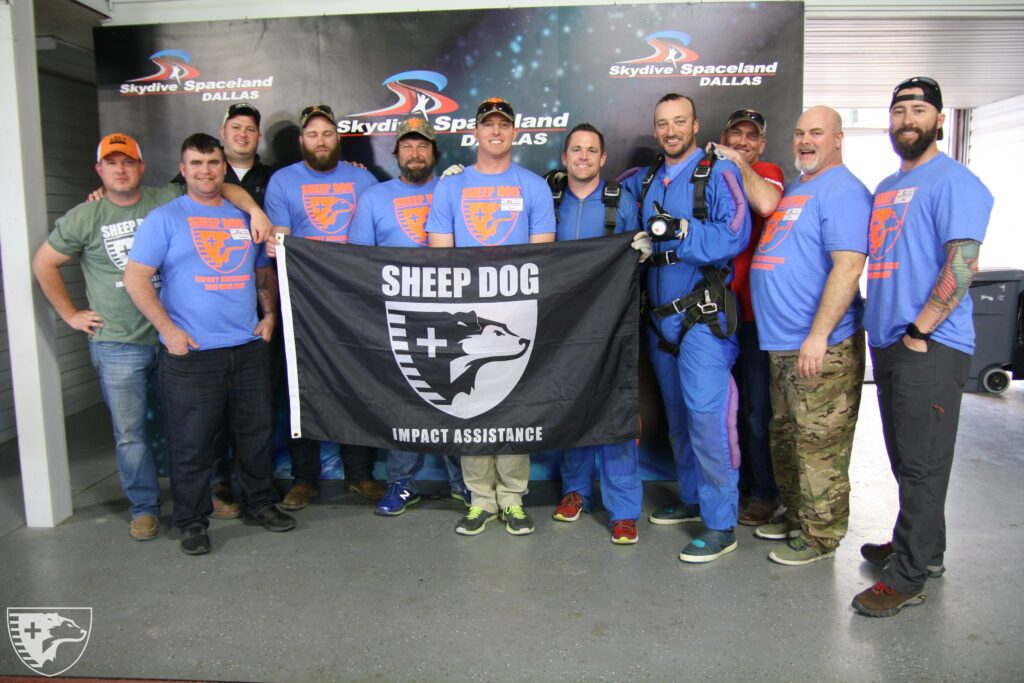 The weekend of March 1-4 saw eleven Sheep Dogs hunting, golfing, and jumping out of planes during our annual Spring Bird Hunt hosted by Bethel Ranch in Whitewright, Texas. Bethel Ranch and their staff took excellent care of Army veterans Joshua Franklin, Merrill White, Beau Saucier, Chance Giannelli, Rob Beidleman, Nick Atchison, and Jason Thompson, as well as Marine veterans James Dunaway, Robert J Houser, Michael Nimmo, and Air Force veteran Scott Lilley.
From the food and camaraderie to game bird hunting, Bethel Ranch treated all our Sheep Dogs like kings; the staff at The Bridges Golf Club was also incredibly generous to them. Skydive Spaceland Dallas got them in the air and safely back down to the ground, giving each an epic adrenaline rush. Merrill White hadn't really thought much about skydiving before, but "being with that group inspired me to do more. I was able to relax and have fun with the guys, which for me was the first time in forever."
That sentiment was echoed by each Sheep Dog at the hunt, as well as all our other Outdoor Adventures. The camaraderie and brotherhood that exists in military and first responder professions is impossible to find in the civilian world, but getting these men and women together with their peers in the great outdoors comes close. "I was able to relax and enjoy [talking] with others who understand the things I go through," said Joshua Franklin.
Rob Beidleman agreed, but also noted another benefit. "[Being with fellow Sheep Dogs] reaffirmed my belief that we have each other's back even if we just met…we need to reach out and ask for help when we need it, and it will be given without question."
SDIA offers Outdoor Adventures for Sheep Dogs to get them off the couch and around other Sheep Dogs who have been through similar situations, which is vital to inspiring a positive state of mind and perspective. Participation in these adventures – especially by those injured in combat or the line of duty – is critical to their healing. Often these heroes become depressed and lose their sense of purpose after their injuries; by getting them up off the couch and among their peers, they are reminded of who they are and how much they can still contribute to their communities and country. The camaraderie they feel with other Sheep Dogs is irreplaceable, and can be the difference between redefining their purpose in life and choosing to end it.
Huge thanks to Bethel Ranch, The Bridges Golf Club and Skydive Spaceland Dallas for an incredible weekend treating these Sheep Dogs like the heroes they are. We could not engage, assist and empower them without your generous support!
If you are a Sheep Dog – or you know of one – that would benefit from the camaraderie and fun of an Outdoor Adventure, contact Scott West (417-239-9545 or SWest@SheepDogIA.org) or Michael Nimmo (479-841-6589 or MNimmo@SheepDogIA.org).
Watch our Facebook Album for more photos on this great Outdoor Adventure weekend.
#GetOffTheCouch #OutdoorAdventure #SheepDogImpactAssistance #SDIA #SheepDogIA #veterans #firstresponders #engage #assist #empower