Our Disaster Response (DR) Team covered nearly the entire island of Puerto Rico during their 11-day mission October 5-16. They made an immeasurable difference in the lives of all those they helped – all while fighting the same struggles as the residents…little power, scarcity of water and food, and the weather.
The DR Team:
assisted nearly 400 residents;
cleared 30+ trees from properties & roadways;
distributed 450+ cases water; and
distributed food, batteries, lanterns and other supplies.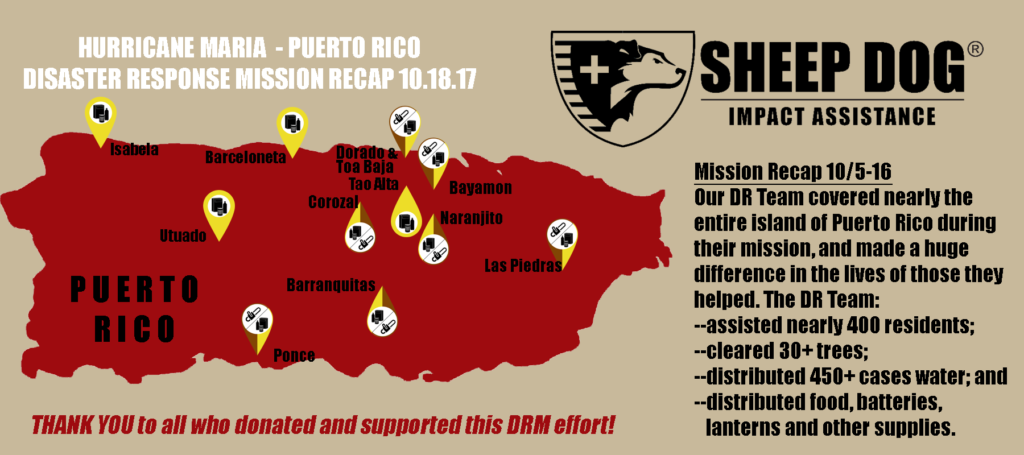 The need in Puerto Rico is still great with little aid getting to those in need. The DR Team did whatever work was needed – from repairs, clearing debris, removing trees, clearing roadways & driveways; they even helped to restore a house that was destroyed by a large palm tree falling on it. A Bayamon family they assisted had been without assistance of any kind for 25 days; the mother is a widow who lost her job when the Sears she worked at was completely destroyed in the Hurricane. The Team provided the family with enough food and supplies to last a couple weeks – thanks to the generosity of our donors and supporters.
Before they left for home, the Team was given this 'Puerto Rico for Christ' flag with the names of the communities they helped written on it. A small – but heartfelt – token of the gratitude felt by all those whose lives they touched.
We welcome and greatly appreciate your continued financial support to ensure that we are prepared for the next natural disaster that strikes. Financial donations can be made securely online at www.sheepdogia.org/get-involved/donate. Cash and fuel cards can be dropped off at or mailed to: SDIA National Office, 1200 W. Walnut St., Suite 2301, Rogers AR 72756.
THANK YOU to everyone who has donated and/or supported SDIA these past couple of months. We could not do what we do without YOU!
Visit our Facebook page (@SheepDogIA) for more photos, stories and information on all our upcoming activities and events.