Joseph Collins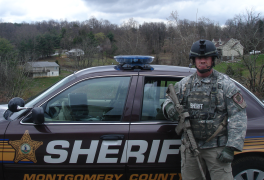 We recently had a chance to visit with Joseph Collins of the Montgomery County Sheriff's Office in Blacksburg, Virginia. Joseph is the epitome of what a Sheep Dog is and should be! As you will read below in the NRA Life of Duty article, and watch in the Life of Duty video presentation, Joseph has lived the life of a true warrior, a man that is passionate about service to country, love of family, and faithfulness to God. We plan on engaging Joseph on a regular basis, and hope to have him join us for a few Sheep Dog IA Chapter meetings in the future. By reading and listening to his story, we believe you will be as inspired as we were. Semper Fi Joseph Collins!
FAIRFAX, VA – The National Rifle Association (NRA) recently released the latest documentary on the NRA Life of Duty online network, presented by Brownells. This most recent Patriot Profile follows the inspiring journey of Sergeant Joseph Collins, a twelve-year veteran to law enforcement and current deputy with the Montgomery County Sheriff's Office in Blacksburg, Virginia.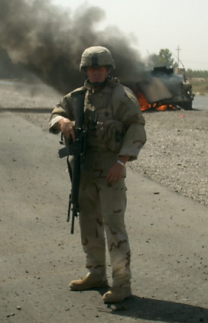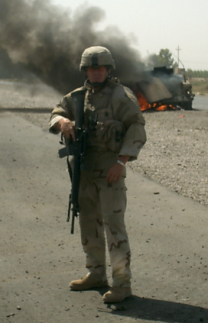 "The Colors of Commitment: The Joseph Collins Story" features a man who has faithfully served in two different branches of the military and two different law enforcement agencies. A SWAT member who responded to the Virginia Tech massacre in 2007, Collins offers an eyewitness perspective of that horrible day when an engineering student gunned down 32 of his fellow classmates.
With two tours in Iraq and daily threats as a law enforcement officer, Collins is the perfect example of a young father, husband, and warrior who lives the ultimate life of duty every day.
"Having NRA Life of Duty profile my time in uniform as a military member and law enforcement officer has been humbling," said Collins. "It's just hard to see myself listed in the same breath or company of those they have profiled in the past. On behalf of my brothers and sisters in uniform, I want to say how grateful I am to NRA Life of Duty for taking the time to tell our stories with honesty and dignity."
This story will no doubt remind you of the amazing integrity of those who serve our communities and country in uniform. It renews faith in character, bravery and the undying dedication of those who protect us every day.
Take a journey with a man of courage and conviction who knows the dangers of the world and boldly confronts them each day so that others don't have to. Watch this uplifting story and those of many other unsung heroes in uniform at http://nralifeofduty.tv/#/patriotprofiles/VideoModule/500