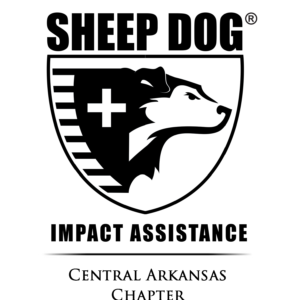 Founded in 2010, Sheep Dog Impact Assistance (SDIA) is a national non-profit organization that exists to engage, assist and empower the men & women who make up our nation's military, law enforcement, fire & rescue, and EMS professions – society's protectors, our "Sheep Dogs." We provide continued service opportunities and outdoor adventures which offer physical challenges and the camaraderie that is often missing after a shift or tour of duty ends. For Sheep Dogs, "Helping Others is a Way of Life."
We currently have 17 chapters and teams in 15 states, and more than 50,000 members, volunteers and supporters worldwide. The Sheep Dog IA chapter serving Central Arkansas is located in Little Rock on Markham Street.
Since 2013, your Central AR chapter has supported missions all over the US. When a natural disaster strikes, teams of skilled Sheep Dogs and other volunteers are deployed to provide immediate "impact assistance" to devastated communities through tree and debris removal, muck-out operations, covering roofs & windows, distributing food & water, and other meaningful tasks.
Turkey Trot 5K for Heroes
Each year, the Central AR chapter hosts our annual Turkey Trot 5K For Heroes at the Outlets of Little Rock on Thanksgiving Morning. Events include the 5K, a 1-Mile Fun Walk, and the Wild Gobbler that includes five exercise stations dedicated to fallen Sheep Dogs from our area. All proceeds fund our Christmas Outreach where we provide Christmas presents for the children of our local Sheep Dogs in need.
How We Support Veterans & First Responders in Little Rock, AR
SDIA offers our members and fellow Sheep Dogs continued service opportunities to satisfy their innate desire to serve and help those around them through three programs: Disaster Response Missions, Outdoor Adventures, and Holiday Assistance. Giving back to others leaves Sheep Dogs with a deeply gratified feeling, and working alongside peers who have been through similar experiences promotes camaraderie and a renewed sense of purpose. Helping is Healing.
Primary Missions
Disaster Response Missions – This is what SDIA was founded on, and continues to be our primary continued service opportunity.
Outdoor Adventures – Providing challenging activities promotes camaraderie and restores self-confidence in our Sheep Dogs.
Holiday Assistance – Our Thanksgiving and Christmas Outreach programs provide meals and/or gifts to Sheep Dog families in need.