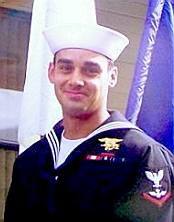 On August 2nd, 2006, Marc Alan Lee became the first US Navy SEAL killed in Iraq. Marc epitomises EVERYTHING that is a Sheep Dog! We pay special tribute to Marc today because of his mother's extraordinary efforts to remember Marc and America's Mighty Warriors. We are proud to call Debbie Lee a friend, and even more proud to remember her son Marc and his ultimate sacrifice in fighting for and defending our great nation! Read more below and please take time to visit AmericasMightyWarriors.com.
Marc Lee was part of a dedicated Naval Special Warfare team fighting the insurgency in Iraq, supporting the U.S. in its efforts to bring peace and stability to that country. His valorous conduct, exemplary leadership, and extraordinary self-sacrifice for his fellow service members have earned him the highest respect and gratitude of his fellow SEALs, the Navy, and our nation.
Lee enlisted in the Navy in 2001. After an initial attempt at BUD/S training and temporary reassignment to the aircraft Carrier EISENHOWER, Lee rejoined the grueling program and graduated in 2004. He was assigned to SEAL Team THREE and deployed to Iraq.
On August 2, 2006, Lee and his teammates were supporting an Iraqi Army unit during military operations with Army forces in Ramadi, a site of frequent insurgent attacks. The Naval Special Warfare Combat Advisory Element was conducting clearance operations.
Award Citation: "During the operation, one element member was wounded by enemy fire. The element completed the casualty evacuation, regrouped and returned onto the battlefield to continue the fight. Petty Officer Lee and his SEAL element maneuvered to assault an unidentified enemy position. He, his teammates, Bradley fighting vehicles and Abrams tanks engaged enemy positions with suppressive fire from an adjacent building to the north."
"To protect the lives of his teammates, he fearlessly exposed himself to direct enemy fire by engaging the enemy with his machine gun and was mortally wounded in the engagement. His brave actions in the line of fire saved the lives of many of his teammates."
Specialty: Navy SEAL
BUD/S Class: 251
SEAL Service: 2 years
Rank: Petty Officer Second Class
Age: 28
Home: Hood River, Oregon
Assigned: SEAL Team 3
Died: August 2, 2006
Operation: Iraqi Freedom
Details: Killed during combat operations while on patrol in Ramadi, Iraq, on August 2, 2006. Marc Lee was the first Navy SEAL to be killed in Iraq.
Awards: Silver Star, Bronze Star with Combat "V" for valor, and Purple Heart, posthumously.
Other Awards: Combat Action Ribbon, Meritorious Unit Commendation, National Defense Service Medal
NavySEALS.com