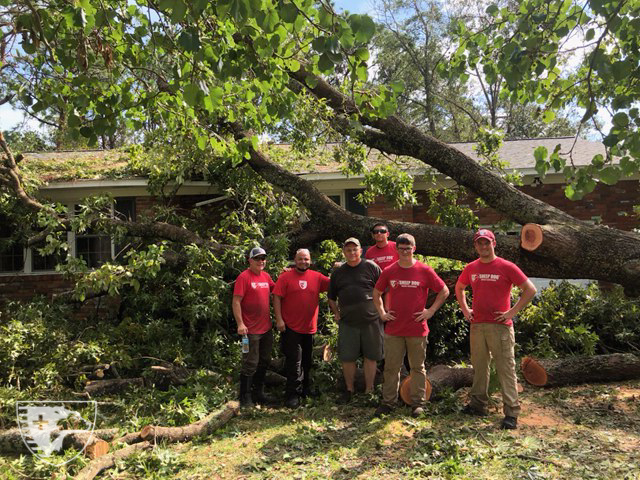 Hurricane/Tropical Storm Florence has slammed North and South Carolina with life-threatening storm surges, heavy rains and severe flooding. On Friday, September 14, Sheep Dog Impact Assistance (SDIA) sent a small Disaster Response (DR) team to the coast to assess damage and needs. A second DR team (DRT #2) deployed from the Center for Nonprofits in Rogers on Monday, September 17, bringing with them 30+ SDIA members from numerous chapters and teams, as well as tools, fuel and supplies to conduct recovery efforts, including tree and debris removal and muck-out operations.
On Saturday, the six-man DRT #1 arrived in Lumberton, NC, and worked alongside the 
#
CajunNavy
 and other organizations to rescue and evacuate residents trapped by fast-rising floodwaters. DRT #1 also helped clear downed trees from one property and Highway 41 allowing motorists continue on their way. Sunday the team began making their way toward the Wilmington, NC, area.
By Tuesday, seven SDIA teams and chapters will have deployed members, with more adding to the teams over the next seven days. National Office staff, including SDIA founder and president, SgtMaj Lance Nutt, joined members from the Northwest Arkansas, Central Arkansas, North Texas and Western North Carolina chapters and Florida, Tennessee and Washington teams.
Your financial support is desperately needed to provide fuel for our trucks, chainsaws and for supplies for personnel to do their work. Please consider making a donation by texting DRMFlo to 24700 or online at 
www.SheepDogIA.org/get-involved/donate
.
Gift cards for fuel, Walmart, Home Depot, and Lowes are also in high demand to offset fuel and supplies costs. They can be dropped off at or mailed to the SDIA National Office at 1200 W. Walnut St., Suite 2301, Rogers AR 72756.
For more information about SDIA, their missions and to become a member, visit www.SheepDogIA.org or email Info@SheepDogIA.org. Follow us on Facebook to see updates on this Disaster Response Mission.