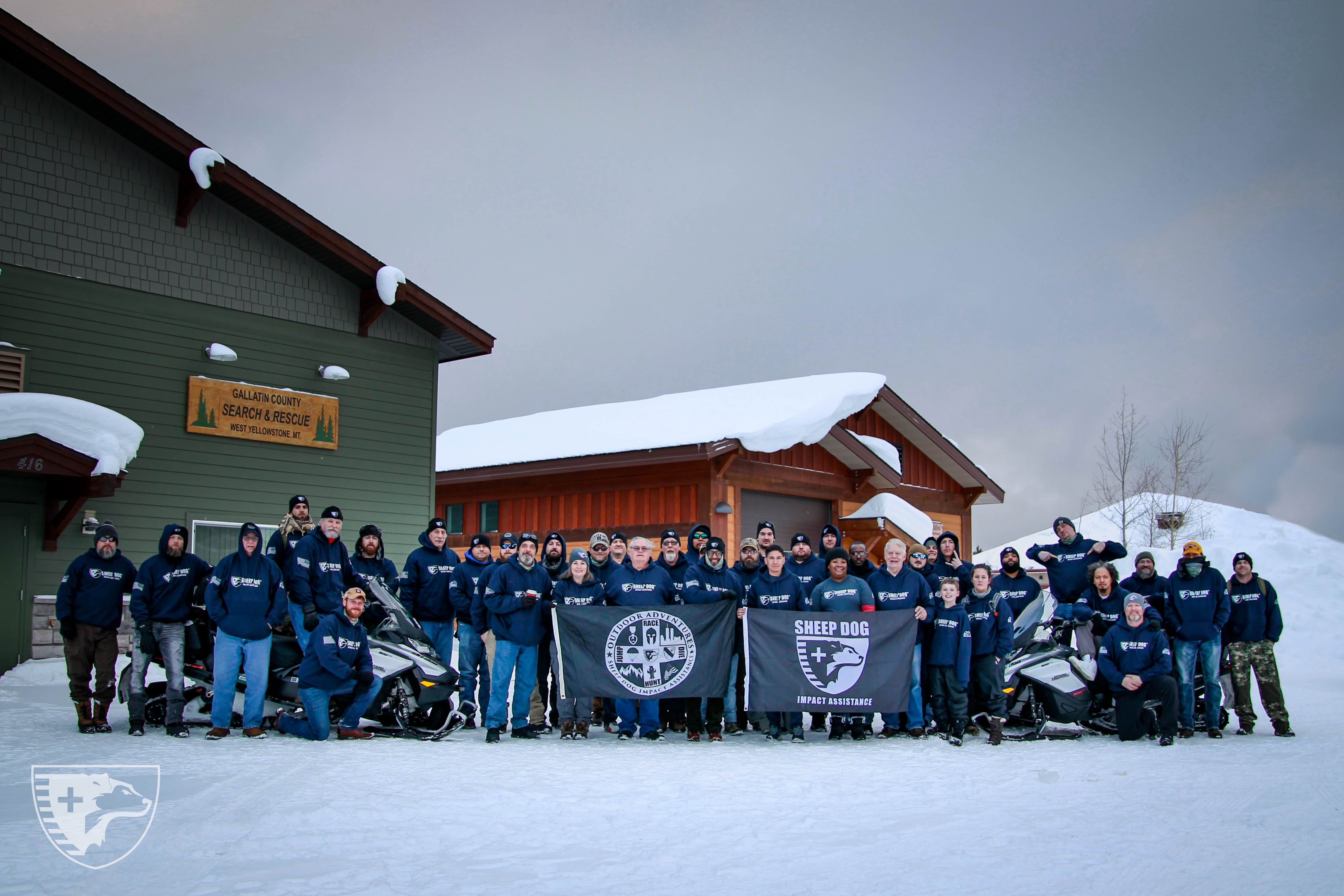 The beauty of Yellowstone National Park and Yellowstone National Forest are spectacular in the summer, and as Sheep Dog Impact Assistance's (SDIA) group of 43 veterans, first responders and family members discovered on the January 23-27 Yellowstone Outdoor Adventure, winter in this vast wilderness is just as stunning when riding a snowmobile.
This was the first Outdoor Adventure SDIA conducted in partnership with the US Department of Veteran Affairs (VA) and Vet Centers across the nation. Through this partnership, the VA and Vet Centers identified and recommended to SDIA 27 veterans; these veterans joined 8 other veterans and first responders for a weekend that took them on a guided snowmobile tour of the National Park, snowmobiling time on their own in the National Forest, group dinners, free time, and most importantly, time to talk with fellow Sheep Dogs about their experiences, struggles and successes. By giving them an opportunity to #GetOffTheCouch, the camaraderie and connection with peers that is so vital to having a positive attitude, perspective and renewed sense of purpose is restored.

SPC Matthew Templeton served in the US Army from 2003-7; while in Iraq he suffered a spinal injury and traumatic brain injury, as well as post-traumatic stress disorder. Returning home and recovering physically was easy; returning to a "normal" civilian life was not. Prior to this Outdoor Adventure, Templeton's daily life consisted of "playing housekeeper and staying at the house" unless he had an appointment at the VA Clinic or Vet Center. Over the years, he has become severely depressed, has major anxiety, and struggles daily with suicidal ideations, even with his service dog by his side.
Contrast that with his outlook at the end of the adventure. Templeton shared that he had a profound experience during the trip simply by getting out of the house and participating in the activities. During the weekend, he had "no anxiety, even without [his] service dog, and no suicidal ideations." He went home energized to continue to #GetOffTheCouch by hiking and simply getting out of the house.
Templeton's response is exactly why the VA has begun partnering with organizations like SDIA. In helping veterans (especially those injured in combat) #GetOffTheCouch and out of their comfort zone, their attitude and perspective are drastically improved.
January's Yellowstone trip was the first in SDIA's partnership with the VA/Vet Centers, but will not be the last. There are three more Outdoor Adventures scheduled in 2019: Yellowstone Adventure 2.0 (late February); Buffalo River Adventure (springtime in Arkansas); and Tunnel to Towers NYC Adventure (September in New York). These incredible Outdoor Adventures will be comprised of sponsored Veterans from the VA/Vet Centers as well as the sponsored Sheep Dogs SDIA brings along.
In addition to these large-scale events, SDIA and its Teams and Chapters host many events and activities throughout the year. If you are interested in learning more about SDIA's upcoming Outdoor Adventures, visit their
website
,
Facebook page
,
Instagram
, or contact them via email (
Info@SheepDogIA.org
) or phone (417-812-6035).