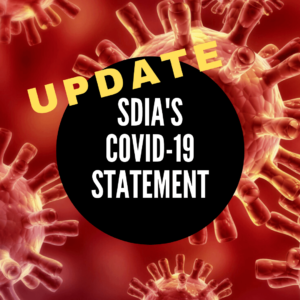 Sheep Dog Impact Assistance (SDIA) continues to closely monitor the Novel Coronavirus (COVID-19) and follow the guidance provided by the Centers for Disease Control (CDC) to prevent our employees, their families and our supporters from contracting and/or spreading the virus.
Last night the CDC announced revised guidance for businesses and mass gatherings/large community events. The steps SDIA is taking to comply are as follows.
SDIA's National Office in the Center for Nonprofits at St. Mary's will be closed March 16-30, with all staff working remotely. Please call 417-812-6035 for questions, or use email and/or text messaging to contact us. Decisions for extending or ending our office closure will be communicated when available.
SDIA's 8th Annual Heroes Gala is currently scheduled for April 18; we are exploring the best course of action to take regarding this annual fundraising event, and will announce our decision/plans on Monday, March 23.
SDIA's scheduled Outdoor Adventures will be evaluated on an individual basis, and those involved will be contacted as decisions are made.
While the general American public is considered low risk in contracting the virus, we must all be prudent in ensuring the health and safety of our fellow Americans, especially those at high risk (older adults, those with compromised immune systems, and people who have serious chronic medical conditions, such as heart disease, diabetes and lung disease). SDIA does not take this situation or any decisions related to the health of our community lightly, and ask for your support and understanding during these uncertain times.
Remember, the best steps to take to protect yourself are to:
Stay home if you or a family member are ill;
Avoid close contact with people who are ill;
Cover your cough or sneeze into your elbow or a tissue, then throw the tissue in the trash;
Clean and disinfect frequently touched objects and surfaces;
Avoid touching your eyes, nose, and mouth with unwashed hands; and
Wash your hands often for at least 20 seconds (with soap/water or hand sanitizer with at least 60% alcohol), and.
If you develop a fever, cough or shortness of breath – all symptoms of an acute respiratory illness and COVID-19, call your doctor to determine if testing is indicated.
You can download the CDC's Cornovirus Fact Sheet here: 2019-ncov-factsheet-2 2020MAR06