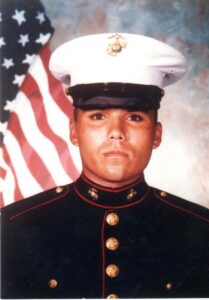 Ralston "Rolly" Porro served with distinction during three tours with three separate branches of the military: Marines, Navy, and Army. During his third tour as an Army Paratrooper, he suffered significant injuries when he was thrown from the gun turret of his transport by an improvised explosive device (IED). He suffered a traumatic brain injury (TBI), was rendered unconscious, and was medevaced out of the Arghandab Valley to Kandahar, Afghanistan. He awoke the next day in the hospital, struggling with the trauma of his injuries, the lingering effects of a serious concussion, and a small scar on his forehead as a reminder.
Rolly's struggles with his TBI continued after returning home to Chicago, and he sought help with the US Department of Veterans Affairs and his local Vet Center. There he found traditional treatment, along with yoga and meditation, and learned about Sheep Dog Impact Assistance (SDIA) and its mission. Rolly also began a long and grueling Veteran's Court program, a nearly two-year intensive program of comprehensive substance abuse & mental health treatment under close supervision and strict accountability.


During this time, he focused on bettering himself, and in September 2019 he was sponsored on
SDIA's New York City Outdoor Adventure
with 80 fellow Sheep Dogs. For five days, the group went sightseeing in New York City, visited the Statue of Liberty and Empire State Building, relived America's past at Ellis Island, took special private tours, appeared on
Fox & Friends
, and participated in the
Stephen Siller Tunnels to Towers Foundation 5K
.
The group spent an emotional day at Ground Zero and the Freedom Towers, and finished the trip by participating in the Tunnel to Towers race. A small group of Sheep Dogs (including Rolly) ran the race while the rest walked, and as they emerged from the Brooklyn Battery Tunnel to see the street lined with the faces of those lost on 9/11, he found loved ones remembering the best of us…those who gave all. When he finished the race, Rolly also found peace…with himself, his demons, and his new SDIA family, and with their support, he returned home that day with a renewed sense of purpose. He went on to become the very
first graduate of his local Veteran's Court program
, finding victory in his life where he had once faltered.
At SDIA, veterans and first responders find not only crucial camaraderie and support, but a new family that understands the needs and experiences of those who have sacrificed on behalf of their country and community. With SDIA's Get Off The Couch™ initiatives and Outdoor Adventures program, the focus is on helping our nation's Sheep Dogs – particularly those injured in combat or the line of duty –reengage in living an active, meaningful and productive life. Through these programs, SDIA strives to prevent suicides in the veteran and first responder communities, and empowers these heroes to find a renewed sense of purpose in their lives, just like Rolly did.
Your support will allow SDIA to continue these efforts to help other veterans and first responders like Ralston. So please, take a moment to give back to those who sacrifice every day for our families, our communities, and our country. Then check back (and follow us on social media) to see how your donation is changing lives!
[paypal_donation_button]
Written by Josh Duggan