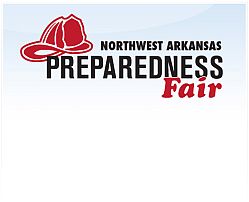 Plan to attend the 2010 Preparedness Fair Saturday, Aug. 21 to learn how to prepare your family, your home and your pocket book for emergency situations.
The 2010 Northwest Arkansas Preparedness Fair will be held from 10 a.m. to 2p.m. Saturday, Aug. 21 at The Church of Jesus Christ of Latter Day Saints, 1101 McCollum Drive, Bentonville, Ark.
This free event includes lunch, 72-hour kit items, smoke detectors, walk-in blood drive and presentations on preparedness topics. There will also be fun activities for the kids, free child IDs and various emergency vehicles to explore.
In addition there will be more than 75 booths hosted by local organizations such as emergency response teams, emergency training personnel, the Red Cross and other community service groups.
For more information click www.nwapreparednessfair.com or call
Melanie Christensen at 479-553-7078.