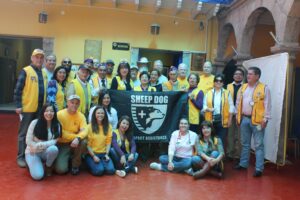 Sheep Dog Impact Assistance (SDIA) recently had the privilege of partnering with another great non-profit, Legend Treks, for an exploratory trip to Peru to serve its indigenous people with eye care needs (eye exams, reading glasses, sunglasses, eye drops, etc.).
Legend Trek team members were Boyd Nutt, Patricia Yabar, Mike Webster, Jason Cruz, Beth Morgan, Randy and Kelley Rose and Jim Main. SDIA team members included sponsored Sheep Dog, Jose Sanchez, and his wife, Dulce, and Danny Shaw, and SDIA staff members Fred Lawley, Scott West and Amanda Bullard. Staff members went on the trip to ensure that our sponsored Sheep Dogs were taken care of, and to determine whether this was a trip that could become a future National Outdoor Adventure. All three SDIA staff members were responsible for funding their own way, paying all personal expenses, including airfare to and from Peru.
During the first clinic, Legend Trek (LT) and SDIA worked with the Cusco Lions Club to operate a clinic in the heart of Cusco. For SDIA, the unknowns of the first clinic was exciting – there were no preconceived notions as to how things would happen or flow.  The clinic had three stations set up for the patients, two for eye and reading exams, and the third to get patient vitals (blood pressure, heart rate and blood glucose levels).  Patients needing eye glasses saw an optometrist and received glasses. Everyone on the team quickly found a role that fit their individual strengths, with Jose & Dulce playing a vital role – translating. The Lions Club of Cusco took wonderful care of the team and their patients; after serving more than 75 patients, they provided a delicious lunch. The first clinic was a humbling experience and an excellent reminder that the United States' health care system is far superior to that in Peru.
A sweet Peruvian woman in her late fifties, wearing the traditional Peruvian hat and garb, was terrified to get her glucose levels checked because family members had died from diabetes/complications.  She made it very clear she did not want the test, but eventually agreed to the simple prick of her finger.  When she was notified her levels were normal, she couldn't control her emotions and gratitude.  She thanked all of us with tears of joy streaming down her face.
After lunch, the group took a bus north to Ollantaytambo, one of the closest towns to Machu Picchu. After dinner, they reflected on the success of the first clinic and how to improve at the next one.  The next morning the group took a 1.5 hour train ride to Aguas Caliente, then a 30-minute bus ride to the entrance of Machu Picchu.  The weather was spectacular for this sightseeing adventure.  With the help of their guide Darcy, they slowly made their way to the highest point – it was no easy hike, and took the entire team working together to get everyone to the top.
Darcy was a fantastic guide, regaling the group for 3.5 hrs with facts and history of Machu Picchu.  For example:
Machu Picchu was built in the 15th century and then basically abandoned until it was rediscovered in 1911;
It was meticulously planned according to the sun, weather and agriculture, and was constructed using the "Ashlar" technique.
Workers didn't use any type of wheels to move the stones, and the stones are placed so closely together that not even a credit card can fit between any two stones;
Machu Picchu is made up of over 600 terraces which prevent erosion and slippage down the mountain;
When referring to Machu Picchu, the term "ruins" is frowned upon; "archeological remains" is the preferred terminology;
It is considered the "Lost City of the Incas;" and
With all of it's history and grandeur, it makes sense that Machu Picchu is one of the Seven Wonders of the World.
The second clinic was in Vilque which sits at 12,000 feet elevation – this made climbing the flight of stairs leading to the registration area challenging. Over 415 patients were served on this one day alone, with roughly one-third of the patients being school-aged children or younger. Registration was upstairs along with blood pressure and glucose level testing; from there patients were led into two different eye exam rooms below, with each having two stations for eye exams.
The group's final clinic was conducted for the Uros tribe; their entire community and village is on floating reed islands on Lake Titicaca. Each reed island is powered by solar panels; the clinic's island had only one panel, and a singular outlet in the common eating area to charge a device.  The group split in half so some could learn about the Uros tribe, their habits and culture while the others served in the clinic at the local school. The clinic was very successful, assisting approximately 100 people in a short period of time.
A grand total of more than 650 people were seen at the three clinics.
This investigative Outdoor Adventure was an incredible experience for all involved – not only because of the scenery, culture and history, but also for each person on a personal level. Combat-wounded veteran and SDIA staff member, Scott West, said it well. "I went to serve and help others, and ended up filling my heart in the process.  It was an amazing experience."
For more photos of this incredible trip, visit our Facebook Album.