PROJECT
GIVING: THANKSGIVING MEALS Last week, SDIA Teams and Chapters throughout the US worked tirelessly to bless more than 70 Sheep Dog families through our Project Giving: Thanksgiving Meals program. This holiday program provides a complete traditional Thanksgiving dinner to military and first responder families in need. Thank you to everyone who donated financially or materially to help give these Sheep Dog families a happy Thanksgiving.
Our Arkansas River Valley Team and Northwest Arkansas Chapter were blessed to provide Thanksgiving meals for 64 families. To view more photos, visit our Facebook Album.
The Eastern TN Team delivered 56 pies to Johnson City and Bristol fire & EMS stations. Team members also served food to those in need at the Family Resource Center at Oak Ridge Schools.
The Central AR Chapter spent their third Thanksgiving morning at the VA hospital in Ft. Roots. Members delivered trays to patient's rooms and worked the chow line serving the Thanksgiving meal. We had a blast serving those who gave so much for us.
Our Greater Cincinnati Team was able to feed 5 families, and the Northern CA Team assisted one family in need.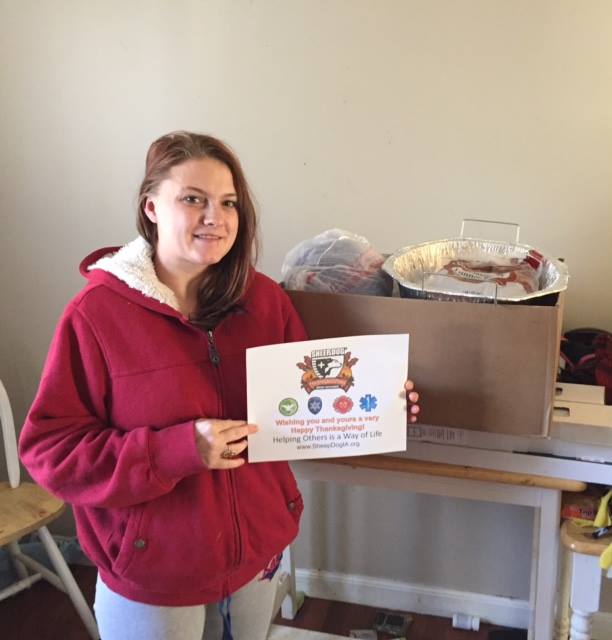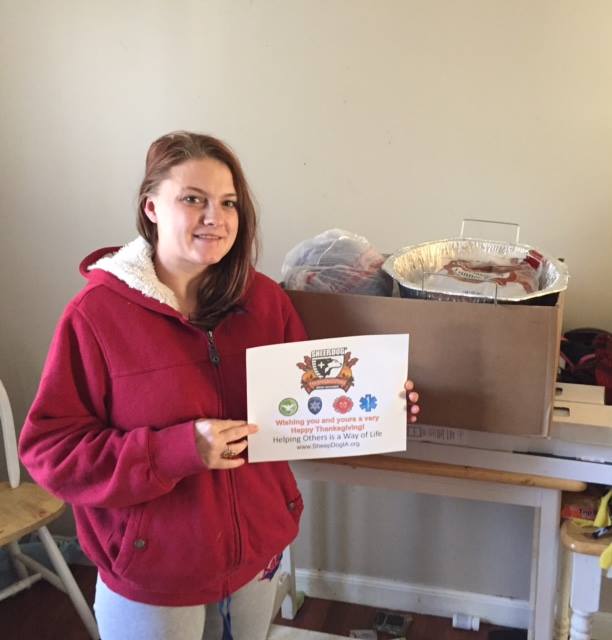 On November 22, The Chicago/NWI Team had the honor of providing two Sheep Dog families with Thanksgiving meals. Both Fathers served multiple tours in Iraq and suffer from PTSD & TBI, among other serious injuries. We also gave one family a much needed $60 gift card for gas and groceries. We look forward to sponsoring these families' needs in the future.
The Kansas Chapter assisted six families this year, including Specialist Jamie Jones and her family of 3 (pictured above) and Specialist James Scott and his family of 7.
8th ANNUAL TURKEY TROT 5K
We had an amazing turnout for this year's 8th annual NWA Turkey Trot!
Nearly 700 runners, Wild Gobblers, and fun walkers participated – exceeding last year's event by 100 new participants. More importantly, we raised more than $11,000 for our Christmas Outreach program, which enables us to give toys and clothes to the children of military and first responder families in need throughout Northwest AR and the nation.
On the Wild Gobbler course, there were 5 exercise stations; each honored a Sheep Dog who gave his/her life in combat or the line of duty, reminding us all how much we have to be thankful for.
We can't say Thank You enough to our many sponsors, race participants, and volunteers, who made this year's Turkey Trot so successful and helped make the holidays bright for Sheep Dog families in need! For more photos from the event, visit our Facebook Album: 2015 NWA Turkey Trot.