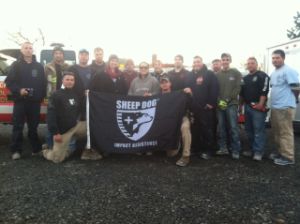 Members from our Sheep Dog Impact Assistance (SDIA) Crystal Coast, NC Chapter, along with firefighters from the Bear Creek Volunteer Fire Department loaded up this past Friday, Nov 2nd, and headed north to assist with Hurricane Sandy relief efforts. So far they have collected and distributed multiple supplies of non-perishable food, water, blankets and clothing to individuals and families in need across three states affected by Hurricane Sandy. They have also been able to assist specific families that have asked for help through our partner organizations.
Our NC team first made a stop to visit with the Hope for the Warriors in Annandale, VA, www.HopeForTheWarriors.org. Our team was provided with an additional vehicle, extra supplies, and a list of military families needing assistance further north. One service member that was targeted for assistance was a young disabled veteran who was trapped in his house…the team found the young warrior without power but in good spirits. We left him with additional food and water and direct contact info in case he needed our assistance on the way back through in a few days.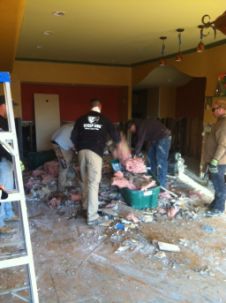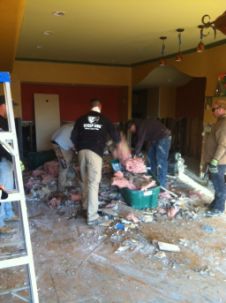 We have been able to accomplish more than we had hoped for, and are in awe of the American people and their spirit. Between having the opportunity to check on and assist fellow Sheep Dogs in need, and the ability to help in organizing and handing out thousands of supplies brought in by the bus load from all corners of our great country, we will continue to do whatever we can as our journey continues.
We appreciate all that everyone has done and continues to do. Our team has been helped greatly by law enforcement in NJ and received an escort in NY. The kind words of encouragement and appreciation from the people of NY & NJ has been humbling. We are honored to be able to help fellow Americans in a time of need.
Please keep members and volunteers in your prayers as they spend a few more days doing everything they can to assist. Any and all donations are appreciated. Thank you for your continued support.
More images and a daily brief can be seen on our facebook page.