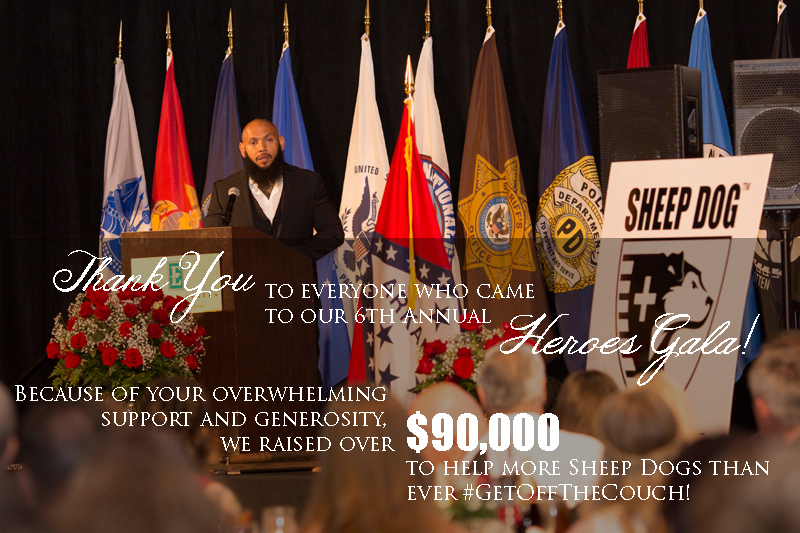 Our 6th Annual Heroes Gala on Saturday, April 21, at the John Q. Hammons Convention Center in Rogers will go down as our most successful Gala to date. More than 500 people attended and helped raise over $90,000 to help our nation's "Sheep Dogs" (veterans and first responders) #GetOffTheCouch and participate in continued service opportunities through our disaster response missions and outdoor adventures. The total funds raised are still being counted…read on to see what was happening behind the scenes that will bring the total even higher!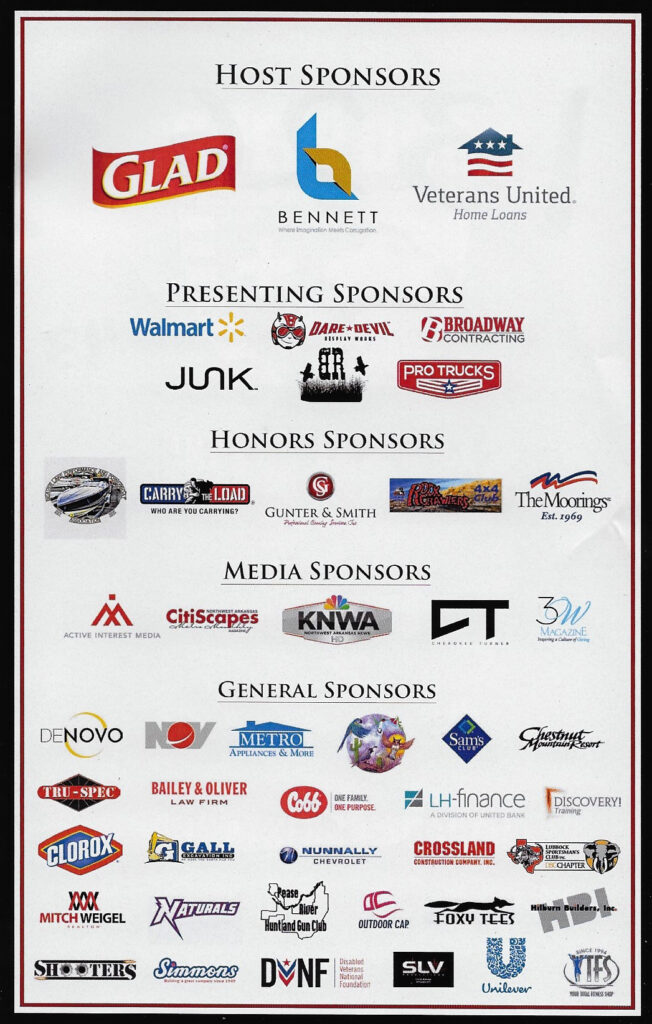 This year's Heroes Gala boasted an enviable list of sponsors who stepped up to help make this year's event bigger and brighter than ever. Other companies that contributed sponsorships include Cobb, Hilburn Builders, Inc., Outdoor Cap and Simmons Foods.Thank you for your support!
Many awards were presented during the evening – some at the VIP reception, and others during the Gala. 2017 Sheep Dog of the Year awards were presented to: CWO Curtis "Gunner" Kelley (Military) of Topeka, Kansas; Lt. Bradley Bearden (Law Enforcement) from Neosho, Missouri; Deputy Sheriff Joseph Owen (Law Enforcement) of Eastvale, California; and Capt. Todd Andrews (Fire & Rescue) of Springdale, Arkansas. Volunteer of the Year went to Jay Vogt for his extensive web and graphic design assistance, and Michael Nimmo received the Meat Eater award for his indomitable energy and spirit in his work with SDIA. Other awards presented include: Sponsor of the Year – Glad; Community Partner of the Year – Dare Devil Display Works; Cpl Nick Perales Commitment Award – Bailey & Oliver Law Firm; Cpl. Sebastian Gallegos Outstanding Service Award – Nunnally Chevrolet Business Elite; and Founders Award – Pease River Hunt and Gun Club. Each of these companies and individuals went above and beyond expectations for supporting our missions and organization.
Bailey & Oliver's Auction Team conducted the live auctions, which included a trip for 2 to accompany Sheep Dogs on an upland game bird hunt (donated and hosted by Bethel Ranch), a weapons package (donated by Talking Lead, Keltec, Riton Optics, Abraham & Moses, Defi Watches, and Palmetto State Armory), and various donation levels of support.
3 committed to $2,400 donations to send 3 Sheep Dogs on Outdoor Adventures;
1 committed to $1,600 donations to send 2 Sheep Dogs on Outdoor Adventures;
60+ others donated $800, $400 or $100 to send Sheep Dogs on an Outdoor Adventure or Disaster Response Missions.
The silent auction had over 175 unique, special and high-quality items for attendees to bid on. There were SDIA glasses, wooden signs, coolers, luggage, outdoor & sports gear, gift cards for clothing, restaurants and furniture, a full outdoor patio set and so much more! There was truly something for everyone in attendance. Thank you to all who donated items, including Dillard's for the scarves and belts, Metro Appliances & More for the dishwasher, range and Yeti cooler, and Sam's Club for donating the patio set and our table centerpieces. The Heads or Tails Game was sponsored by Gall Excavation, and Kat Carson was the lucky winner of the 65" TV.
Behind the scenes, two other very exciting things were happening. First, one of the two Beaver Lake lakefront properties donated in November 2017 by Jeff Engleman and his family was sold! Proceeds from the sale will be used to develop the remaining property and turn it into an SDIA Outdoor Adventure Retreat. With its two boat slips, sponsored Sheep Dogs and their families will enjoy boating, fishing, and water sports, as well as camping, hiking, relaxing and other activities on the grounds.
The other exciting news was that The Moorings, the world's premier yacht charter company, privately donated a 7-day, 6-night chartered vacation aboard a power catamaran in the British Virgin Islands. Huge thanks to AIM Media for making the introductions that led to this charter donation, and to Jeff Engleman and Dan Bruer for bringing together eight very generous people who believe in the SDIA mission to buy the charter. 100% of the charter purchase will be donated to SDIA for our Disaster Response Mission and Outdoor Adventure programs.
Jeff Engleman and his partners also purchased FIVE tables at the Gala for their businesses: DBR Consulting, Denovo Brands, LLC; Launch Marketing, LLC; Kuettel Capital; and Amplify Philanthropy. Thank you all for your support!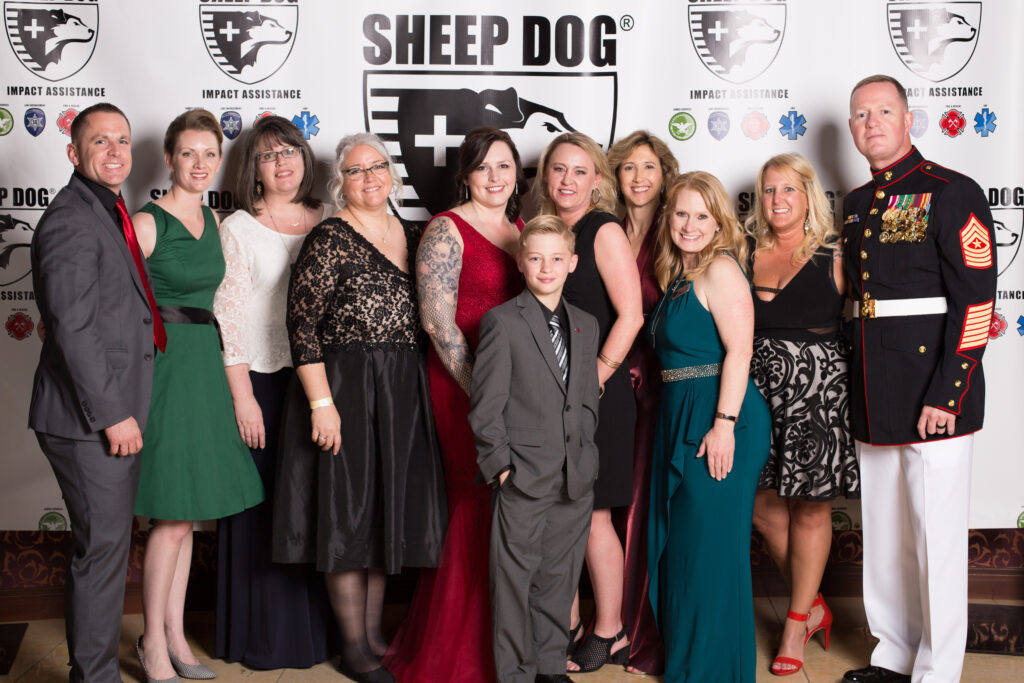 The Heroes Gala would not have been the success it was without the excellent leadership provided by Committee Chairperson, Jayme Lingo. While she is quick to say it is a team effort, she is well-suited to coordinate such a large event. Committee members and volunteers included Kay Ricker, Rose Corscadden, MJ Schultz, Tiffany Pippin, Michael Nimmo, Scott West, Tina Lawvey, Dana Ames, Gary Ames, Chris Barnes, Aaron Mankin, Becca Cross, Elisha Modisette, Lisa Nunley, Kate Nunley, Mandi Green, Victoria Bossler, Victoria Toan, Alexander Nichols, Matthew Solomon, Sarah Cato, and Phoebie Lingo.
Last, but certainly not least, we want to thank all the others who contributed to the event in so many ways.
Every one of the people and companies mentioned here, as well as others we are still confirming, had an integral part in making our 6th annual Heroes Gala as successful as it was. Whether they volunteered their time or resources, or donated items or money, their belief in SDIA and our missions means the world to us. Without them – and YOU – we cannot accomplish our mission to engage, assist and empower our nation's veterans and first responders. Thank you very much for your trust and support.
This week we will be adding many more photos to our 2018 Heroes Gala photo album on Facebook. Oh, what a night it was!