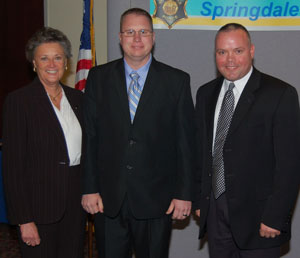 Two of our northwest Arkansas members were recently presented with the Distinguished Service Award. This is the highest annual award presented by the Springdale, AR Police Department. SDIA is extremely proud of Detectives Robert Hendrix and Matt Ray for receiving this award. These two Sheep Dogs are a shining example of the good our Law Enforcement men and women perform on a daily basis. Their selfless dedication to duty and community has led to a tremendous amount of success overall for the Springdale Police Dept.
One of the letters of recommendation for the Distinguished Service Award came from Karen Blackstone, the Forensic Interviewer/Adjunct Professor of the Children's Safety Center. A portion of the letter reads…
"Within the field of child abuse most law enforcement personnel do not voluntarily want to be a part of the investigative team largely in part because child abuse is a crime that can be very ambiguous and often difficult to prove or disprove. And I have heard others questions why anyone would want to investigate such a heinous crime.
Through my years of experience I have seen detectives and professionals understandably come and go within this field, largely in part due to a prevention of burn-out. When new professionals step into the various roles of either investigating, protecting or supporting child abuse victims I hold my breath wondering if this professional can capture the vision, learn the dynamics and be passionate enough to indeed protect the community in these difficult-sometimes emotional cases.
To be effective in this field, it takes individuals who are emotionally strong, passionate and who want to make a lasting impact beyond themselves. Robert Hendrix and Matt Ray are such individuals. They have captured the vision, they have dedicated themselves to each child and the community they are bound to protect and finally they demonstrate the passion needed to the work above and beyond."
Robert and Matt are certainly deserving of the Distinguished Service Award and we are extremely proud to have them as part of the Sheep Dog Impact Assistance family. Great job gentlemen!
The award criteria reads as follows…
DISTINGUSHED SERVICE AWARD

This award may be given to any member who performs an act, worthy of merit in a commendable manner, but where no actual danger existed for the employee. This award will be given to an employee who makes a significant contribution over a period of one year, above and beyond the ordinary call of duty, thereby demonstrating outstanding customer service and enhancing the community service component of the department's mission. A Department unit or member who performs an act that distinguishes itself by exceptionally admirable quality service to the department, the community or the member personally, for the performance of duty or duties clearly above that which is normally expected, thus bringing credit to the department or community is eligible for this award. Award nominations may be made for exceptional achievement, including, but not limited to extraordinary valor, crime prevention, training, detective work, community service and relations, juvenile work , drug control and prevention, animal control, traffic safety, mentoring and innovative approaches to public safety. All nominees should have maintained the highest standard of leadership, distinguishing themselves by superior accomplishments.