Last week Sheep Dog Impact Assistance (SDIA) announced that we are putting together a team to run/walk the "Tunnel to Towers Foundation Race" (T2T) in New York City on Sunday, September 27, 2015. Our hope is to have as many of our members, volunteers and supporters from across the United States participate in this event as we prepare to launch a nationwide PTSD Awareness Campaign in 2016.
With SDIA members from all disciplines – military, law enforcement, fire & rescue, and EMS – we are more aware than most organizations of the devastating impact Post-Traumatic Stress Disorder, or PTSD, can have on the life of a veteran or first responder injured in combat or the line of duty. Our members and their families have first-hand knowledge of the difficulties associated with PTSD, including its misconceptions and stigmas. SDIA's team running the Tunnel to Towers race will first and foremost honor Stephen Siller and the military and first responders who gave their lives rescuing others on that fateful day – September 11, 2001. It will also give us a unique opportunity to share the SDIA story and pre-launch our 2016 PTSD Awareness campaign.
We are fortunate to have three generous companies partnering with us: Walmart, Propper and Zantac. Their assistance will help tremendously to make this Race and our PTSD campaign huge successes.
SDIA leadership is organizing a couple of group activities in addition to the T2T race – and we could use your help! If you are interested in helping organize or being the POC for activities, and/or could help us keep track of participants, please email Lance@SheepDogIA.org.
For those who can join us in NYC, please let us know so that we can include you on the Master email group and keep you up to date on the latest news about T2T.
Be sure to read the information below and follow the instructions carefully to register with the SDIA T2T team and to make reservations. Participants should budget roughly $800 for the trip (inclusive of airfare, room, food, and misc items).
Photo from meetup.com
RACE INFORMATION:
Tunnel to Towers was founded to retrace the final footsteps of 9/11 hero, firefighter Stephen Siller, and to support our nation's first responders and military, all of whom make extraordinary sacrifices in the line of duty. On September 11, 2001, Siller had just gotten off the late shift at Squad 1 in Brooklyn when he heard of the first plane hitting the Twin Towers. He immediately returned to Squad 1 to get his gear and drove his truck to the Brooklyn Battery Tunnel. The tunnel was already closed, so he strapped 60 lbs. of gear to his back, rushed on foot through gridlocked traffic and ran from the Tunnel to the Towers, where he gave up his life while saving others. This event is part of his legacy. For more information, visit the www.tunnel2towers.org.
2015 Tunnel To Towers 5K Run & Walk – New York City
Brooklyn, NY | START: Ikea Parking Lot 9 Red Hook (1 Beard St)
Sunday, Sept. 27, 2015 | 9:30AM to 4:00PM (EDT)
NOTE: The race begins at 9:30AM; allow plenty of time to arrive at the starting point and meet up with the SDIA group (location TBD).

On race day there will be ferries running from Manhattan's Pier 11 near Wall Street to Brooklyn for the start of the race; the last ferry is at 7:45AM.

The race begins at the mouth of the Battery Tunnel in Brooklyn (by the IKEA). The end of the race will be just before the WTC near Vesey Street, where there will be a street fair after the race.
T2T Registration Link: t2tnyc.eventbrite.com
Please follow the instructions below carefully to ensure that you register correctly and will be placed with our group!
Ticket Prices: Adult Runner with Time Chip – $70; no Chip – $60; Child Runner (14 & under) with Time Chip – $10; no Chip – free.
BEFORE SELECTING REGISTRATION TYPE, scroll down to the bottom of the Registration Information section and click on the red text:

enter promotional code

.
Enter Promo Code SHEEPDOGIA and click Apply.

The "Sheep Dog Impact Assistance w/Free NY Yankees Ticket" registration option will appear at the top of the Registration Type list.

Begin your registration by selecting the appropriate number of registrations needed.

Click the Register button, and complete the Buyer, Payment, Billing and Participant Information for each participant to finish your registration.

After registering, please email the participant names (adult and children) to Scott Romonowski to ensure that all SDIA participants are placed on the SDIA team.

All SDIA race packets and t-shirts will be picked up by an SDIA representative. Time and location for SDIA participants to pick up their race packets will be announced at a later date.
NOTES:
*We will all be "Runners" so that our entire group will start together. Signing up as a Runner will still allow you to choose to run or walk on race day; however, if registered as a "Walker," you would be placed in the very last wave at the end of the race. SDIA prefers to be at the front and all together as a group.

Optional Baseball Game Tickets: there is an option to receive one free NY Yankees game ticket (to the 9/12 game) for each registration. If you cannot or do not want to attend, you can opt out of that during registration.
Fundraising
Once registered, you will be asked to create or join a fundraising team. Please join our Sheep Dog Team.
Tunnel to Towers Appreciation Dinner
New York, NY | The Elevated Acre – 55 Water Street | Saturday, Sept. 26, 2015 | 6:30PM to 9:30PM (EDT)
Tickets: $20 per person; visit https://t2tappreciationdinner.eventbrite.com to purchase tickets.
Hotel for SDIA Participants
SDIA currently has one hotel with a block of rooms, and we are working on securing more. As soon as we have those lined up, we will post the information.
Fairfield Inn by Marriott, LaGuardia Airport Astoria NY, 45-20 Astoria Blvd Astoria, NY 11103
718-267-0008 or 1-800-MARRIOTT
Be sure to ask for the "Sheepdog Tunnel to Towers rate"
SDIA has a block of 10 double bed rooms available at a nightly rate of $175. Reservations include complimentary parking, hot breakfast buffet and high-speed wireless (and wired) internet service.
MAKE YOUR RESERVATIONS EARLY! In addition to the T2T event, the UN assembly will be in session and the Pope will be visiting NYC that weekend.
All reservations must be made 30 days prior to the arrival date and cancellations are accepted up until 14 days prior to the arrival date. Any cancellations made within 14 days of the arrival date are subject to charge and tax.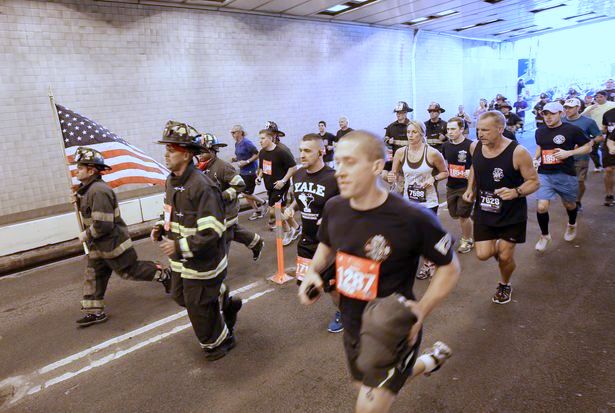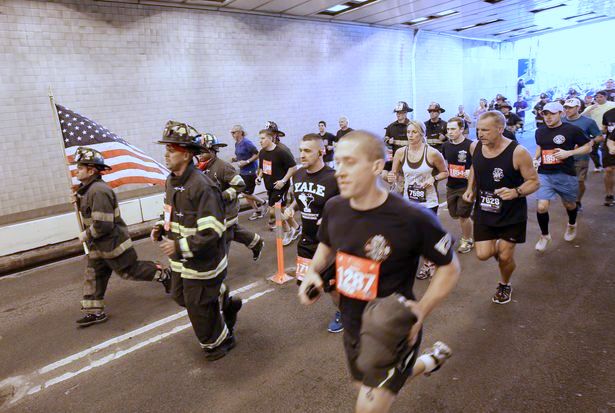 Photo from statesman.com
To make the most of your trip to NYC, we have a few suggestions.
FRI., SEPT. 25:
Fly into LGA and take the free shuttle to your hotel; enjoy the evening to do as you please.

For less expensive and easy transportation options, use Uber. Download the app (Uber by Uber Technologies, Inc.) and set up your free account; you can choose your vehicle size, see what the fare will be, schedule pickups, share fares and more.
SAT., SEPT. 26:
SDIA will have some group activities you may participate in during the day, or you can sightsee on your own.

To go sightseeing, take the shuttle to the Riverfront by the Brooklyn Bridge; ferries can take you from the Bridge to the Wall Street dock, where you can get tours of the city (Times Square, lower Manhattan, the 9/11 Memorial, Wall Street, churches, Statue of Liberty, etc.).

Saturday evening is the Appreciation Dinner; we would like to have a large presence here, but attendance is not mandatory.
SUN., SEPT. 27:
Early Sunday morning, carpool or arrange transportation to get yourself to the designated SDIA launch point.

We will begin the race as a group; if you opted to race with a Time Chip, please wait for the SDIA group near the finish line (Ground Zero) after you have completed the race.

After all SDIA participants have finished the race, you are free to spend the day as you choose.
MON., SEPT. 28 – Return home.
We encourage all our members, volunteers and supporters to participate, whether by running/walking the Race or by making a donation. Donations will be used to sponsor 20+ combat wounded veterans and first responders injured in the line of duty at the Race and to provide funding for the 2016 PTSD Awareness campaign.
We hope you will be able to join us in this memorable event!
If you have any questions, please email Lance@SheepDogIA.org.