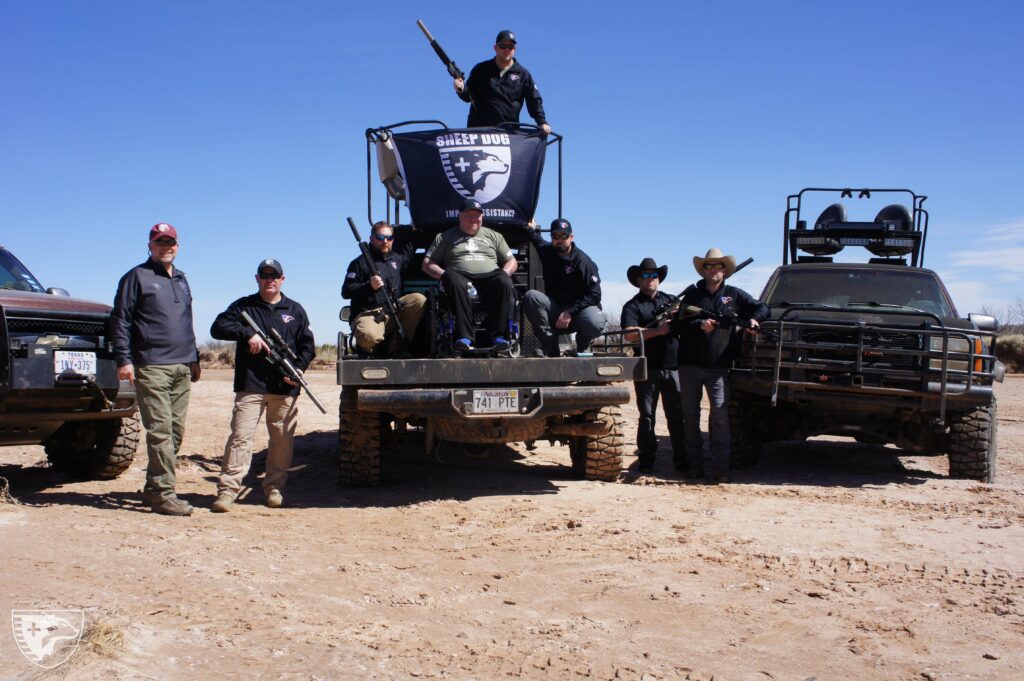 SDIA hosted some very special Sheep Dogs March 8-11 for our annual Spring Hog Hunt, sponsored by Broadway Contracting LLC and Pro Trucks, Inc. of Siloam Springs, AR. Law enforcement officers Matt Crosby, Michael Rudden and Kerry Pippin were treated to tasty food, exceptional hunting, great conversation and the camaraderie they needed at Turtle Hole Ranch in Texas.
This Hog Hunt was unique with the participation of St. Louis Police Officer Crosby. In April 2010, he was shot while responding to a domestic disturbance call and was paralyzed from the waist down; he is now wheel-chair bound and, until this weekend, had not been able to maneuver on hunting grounds. Two companies stepped up and made it possible for Crosby to fully participate in the hunt: Buckmasters – Northwest Arkansas Chapter donated a "track chair," and Redneck Hunting Blinds donated two ground blinds which accommodated the chair.
A fellow hunter said that Crosby arrived at camp with his head down, quiet, not ready to try the chair or get out of his comfort zone. The group encouraged him to rabbit hunt that evening, and he literally changed overnight. The next morning he was excited to hop in the chair and hit the range, making jokes and laughing with the rest of the guys.
"This is exactly what we hope to accomplish by bringing these Sheep Dogs in need on our Outdoor Adventures," said SgtMaj Lance Nutt, SDIA's founder and president. "Getting them up off the couch and reengaged in living life renews their spirit and motivates them to make positive change in their lives."
SDIA offers Outdoor Adventures for Sheep Dogs to get them off the couch and around other Sheep Dogs who have faced similar experiences, which is vital to inspiring a positive state of mind and perspective. Participation in these adventures – especially by those injured in combat or the line of duty – is critical to their healing. Often these heroes become depressed and lose their sense of purpose after their injuries; by getting them up off the couch and among their peers, they are able to speak freely about their situation and can truly relax. They are reminded of who they are and how much they can still contribute to their communities and country. The camaraderie they feel with other Sheep Dogs is irreplaceable, and can be the difference between redefining their purpose in life and choosing to end it.
Our heartfelt thanks goes to all those involved in making this Hog Hunt a safe, fun and relaxing environment for these heroes. It wouldn't be possible without the incredible support of sponsors Broadway Contracting and ProTrucks, as well as the generosity of Buckmasters and Redneck Hunting Blinds. We also appreciate the support of TRU-SPEC, Rocky Boots, Walls Outdoor Goods, Kershaw Knives-KAI USA Ltd., and 5.11 Tactical, who donated all the gear for our hunters.
If you are a Sheep Dog – or you know of one – that would benefit from the camaraderie and fun of an Outdoor Adventure, contact Scott West (417-239-9545 or SWest@SheepDogIA.org) or Michael Nimmo (479-841-6589 or MNimmo@SheepDogIA.org).