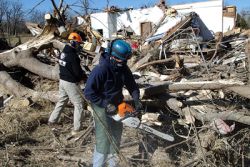 On December 31st, Cincinnati, Arkansas was ravaged by a tornado. This small town and community could not have been more surprised by the timing of the storm or the damage and loss of life it caused. The outpouring of assistance and support from surrounding towns and communities was immediate. Sheep Dog Impact Assistance responded to assist with the damage on the morning of January 1st. Our team could not believe the extent of the damage. Most Sheep Dog members are very familiar with the ravages of storms and war, but we are always amazed by the destructive forces of both. Tornadoes seem to always cause some of the most concentrated forms of damage…Cincinnati, Ar was no exception to this rule!
As always, we wish we could have done more to assist the people affected by this tornado, but we are proud that we could assist with clearing trees and debris from the center of town and the surrounding area. We continue to learn from our efforts to help others, and feel that we gained more than we gave via this disaster assistance effort.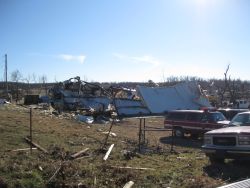 We will continue to pray for Cincinnati and its residents, while we continue to prepare and train for the next disaster. You can see more pictures on the Sheep Dog IA facebook page.