Sheep Dog Teams deploy to Marysville, IN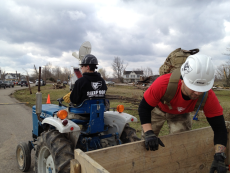 In the aftermath of last Fridays tornadoes that tore through the mid-west and south, Sheep Dog Impact Assistance (SDIA) teams deployed to Indiana in an effort to assist via disaster response and recovery. The initial thought was to tackle Henryville, IN, but as is seen all too often with disasters like this, Henryville was over-run with people trying to help, a good thing on the surface, but it quickly adds to the confusion…too many people trying to help slows the process down.
With that being said, Sheep Dog IA has quickly learned to skirt areas receiving the most help, and instead focus on the outlying communities with just as much need, but less attention. Marysville, IN turned out to be just such a place.
Our teams spent three days in Marysville and the surrounding area doing their best to assist wherever possible. Our teams always begin the relief mission by delivering cases of water, non-perishable food, blankets and tarps. Our members were quickly able to stage and hand out these items. As always, SDIA teams deploy with multiple chainsaws, and were able to put them to good use in Marysville.
Of all the communities our SDIA Disaster Response teams have helped, Marysville was one of the friendliest. We cannot say enough good things about the people of south Indiana. Our team members were welcomed with open arms and were treated much better than was deserved. We wish the people of Indiana, and everyone across the country, a speedy recovery. May God bless you!
Please visit our facebook page for additional photos.