[vc_column_text width="1/1″ el_position="first last"]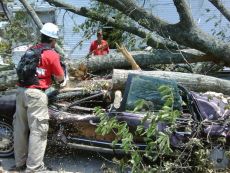 Sheep Dog IA disaster relief teams from Little Rock and Rogers, Arkansas responded to tornado ravaged communities in Mississippi and Alabama with relief supplies and recovery equipment. Our teams primary relief efforts centered on Smithville, MS & Hackleburg, AL. As always, our team members wish they could have accomplished more, but without a doubt, they had an extremely positive effect on the lives of those they were able to assist. Our Sheep Dog teams received extremely positive feedback and gratitude from disaster relief management teams in the areas they worked, and our teams learned much from their experience's while assisting those in need.
Everything we accomplished was made possible by the assistance we received from our many committed supporters. The food, water, and supplies you enabled us to purchase improved the lives of many people affected by the tornado's. Without your support we could not have accomplished half of what we did. Thank you!
You can see more photos from our mission to Hackleburg & Smithville via our facebook page..
[/vc_column_text] [vc_column_text width="1/2″ el_position="first"]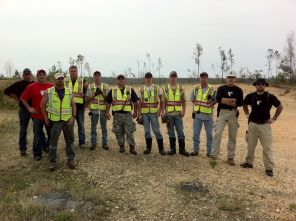 Sheep Dog team members with Fire & Rescue
personnel from Hackleburg, Ala.
[/vc_column_text] [vc_column_text width="1/2″ el_position="last"]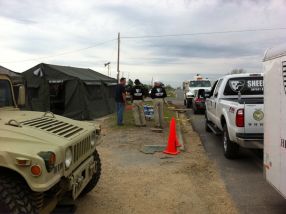 Sheep Dog team members Luke Cowden &
Drew Gilchrist gather information at the
Hackleburg disaster response command
tent in Hackleburg, Ala.
[/vc_column_text]