[vc_column_text width="2/3″ el_position="first"]
Support a Worthy Sheep Dog Family this Thanksgiving
Project Giving is our annual Thanksgiving program to provide meals to military, law enforcement, fire & rescue or EMS families needing assistance during the holiday season. Our goal this year is to increase the number of families we can support, providing 45 families with a traditional family Thanksgiving meal.
Our greatest challenge is identifying Sheep Dog families that need our assistance. If you know of a worthy Sheep Dog family, please contact us as soon as possible. Families will receive a whole Turkey, Ham and all the trimmings, including 2 pies, corn, green beans, stuffing, potatoes, and much more!
[/vc_column_text] [vc_column_text width="1/3″ el_position="last"]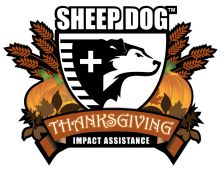 Sheep Dog IA Thanksgiving
– Project Giving
[/vc_column_text] [vc_column_text width="1/1″ el_position="first last"]
If you are interested in sponsoring/adopting a Sheep Dog family for Thanksgiving, a $60 donation will provide a family of six with everything listed above. We also accept product donations in lieu of cash donations. Visit our website at sheepdogia.org/donate if you would like to help.
Immediately following Thanksgiving, we will gear up for our Christmas Outreach, providing toys to children of Sheep Dog families in need. Over the past two years we have adopted more than 70 children and we plan to increase our outreach this year. As always, we need your help finding the families with the greatest need.
If you need assistance, have a family you would like to recommend, and/or you have questions or concerns please feel free to contact us at info@SheepDogIA.org, or call 479-466-9713.
Thank you for your support!
Sheep Dog Impact Assistance
1200 W. Walnut St.
Suite 2301
Rogers, AR 72756
www.SheepDogIA.org
[/vc_column_text]