During our first deployment to northwestern Florida for Hurricane Michael recovery efforts, we accomplished a lot of great work. Even though we're not seeing the devastation as much in the media, there is still an enormous amount of work to do. To that end, Sheep Dog Impact Assistance (SDIA) will send a second deployment of Disaster Response (DR) Teams to northwestern Florida from November 12-19. DR Volunteers from across the country will join in the tree & debris removal, covering leaking roofs, and other recovery efforts. But we won't be successful without YOUR support. #GetOffTheCouch with us! If you are willing and able to deploy for up to 4 work days anytime during this period, review the linked info (https://bit.ly/2EUPGHb) and contact JDixon@SheepDogIA.org. (If you are not currently an SDIA Member/Volunteer, please sign up prior to volunteering for this DR mission at www.SheepDogIA.org/membership.) #Donate to become part of our DR team! With this deployment, SDIA is again asking for gift...
ConnectingVets.com story by Phil Briggs (9/20/18, 12:45pm)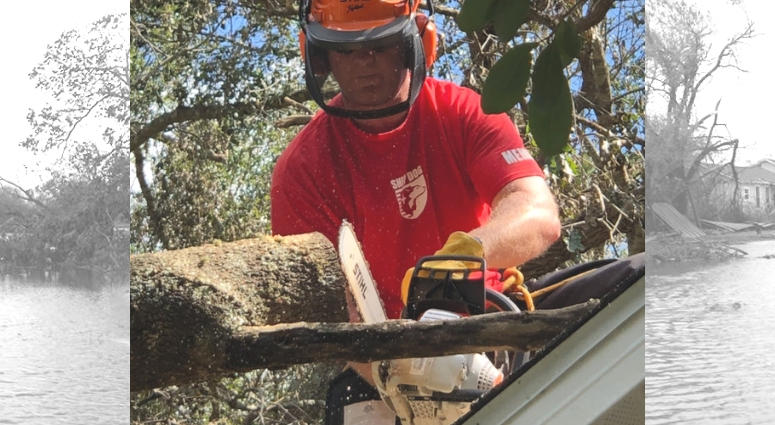 Sergeant Major Lance Nutt had barely finished his retirement ceremony last Thursday, when he packed his bags, loaded up trailers and headed to Wilmington, NC, along with members of the organization he founded, Sheep Dog Impact Assistance (SDIA).
"Just getting into areas like Lumberton and Wilmington, NC was next to impossible because the roads were either completely flooded, or washed out," he says.
SDIA's Initial Response Team members are no strangers to disaster relief.  The veteran-staffed relief organization was on site to assist residents after Hurricane Harvey hit Texas one year ago.  Now, as a tent city comes together in a Home Depot parking lot in North Carolina, they have 60-100 veterans who break into teams to perform chainsaw work and delivery of food and supplies.
"Home Depot and Operation BBQ Relief have been great.  They've partnered with us and are making it possible for us to get the supplies and deliver meals. We're currently packing over 300 meals for delivery today,"  says Nutt.
Click here to continue reading…
Read more: "How You Can Help Carolina Flood Victims"
Hurricane/Tropical Storm Florence has slammed North and South Carolina with life-threatening storm surges, heavy rains and severe flooding. On Friday, September 14, Sheep Dog Impact Assistance (SDIA) sent a small Disaster Response (DR) team to the coast to assess damage and needs. A second DR team (DRT #2) deployed from the Center for Nonprofits in Rogers on Monday, September 17, bringing with them 30+ SDIA members from numerous chapters and teams, as well as tools, fuel and supplies to conduct recovery efforts, including tree and debris removal and muck-out operations.
On Saturday, the six-man DRT #1 arrived in Lumberton, NC, and worked alongside the #CajunNavy and other organizations to rescue and evacuate residents trapped by fast-rising floodwaters. DRT #1 also helped clear downed trees from one property and Highway 41 allowing motorists continue on their way. Sunday the team began making their way toward the Wilmington, NC, area. By Tuesday, seven SDIA teams and chapters will have deployed members, with more adding...
Throughout the month of May, SDIA Teams & Chapters have prepared for Memorial Day – a day for our nation to remember the men and women of the US military who have given their lives defending our country and freedoms. Indeed, our freedom is NOT free…it has come with a heavy price, and we honor those lost by participating in various events throughout the month.
May begins with our Teams & Chapters electing to participate in Carry The Load's Rallies and East Coast Relay by walking 5-mile 'legs' of the 2,100-mile relay route from West Point Cemetery in New York to the Memorial March at Reverchon Park in Dallas, Texas, on Memorial Day weekend. The Relay operates 24 hours a day, handing off the American flag every 5 miles, and reminds people of the true meaning of Memorial Day - to honor our nation's fallen heroes. Participants are encouraged to "carry the load" – a weighted backpack – with names...