For ten days, SDIA had Disaster Response Teams (DRTs) deployed in Texas and Florida to assist those affected by Hurricanes Harvey & Irma. The teams worked diligently to help as many residents as possible, and it appears our work there is done. No further missions to Texas or Florida are planned at this time.
Following is a final recap of the Texas and Florida missions.
TAMPA & JACKSONVILLE, FLORIDA – Sept. 11-14
Two DRTs made up of 15 SDIA members and volunteers from our Eastern TN Team as well as Florida & Virginia conducted chainsaw operations in New Port Richey, Tampa and Jacksonville. Teams worked hard and:
cleared 31 properties and 2 roads of debris and more than 50 trees;
covered damaged roofs;
distributed more than 200 cs of water and 15+ cs non-perishable food to residents and linemen working to restore power.
For more photos from the Florida DRM, visit our Facebook album.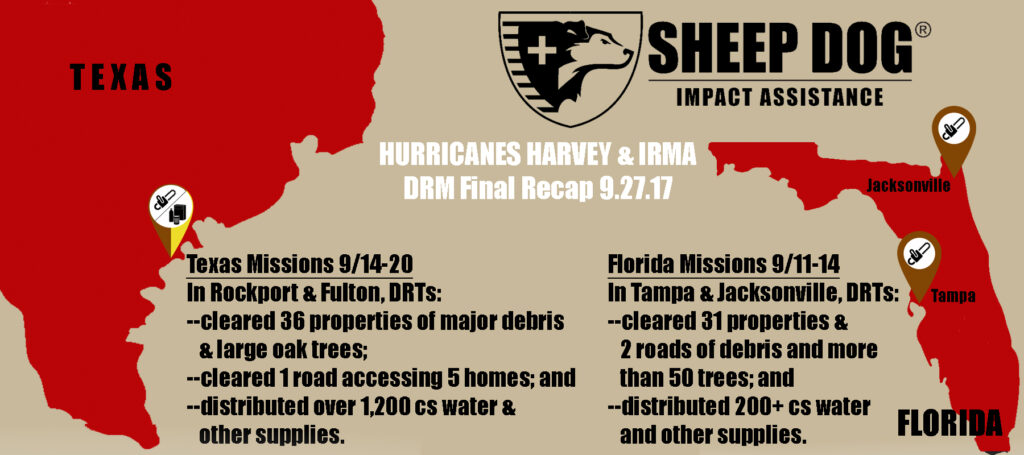 ROCKPORT & FULTON, TEXAS – Sept. 14-20
19 Members and volunteers from the Northwest Arkansas and North Texas Chapters conducted chainsaw operations and removed trees & debris in Rockport 9/14-18. They were joined on 9/16 by another team from Northwest Arkansas, with volunteers from Gunter & Smith Professional Cleaning Services (GSPCS) bringing two skid loaders with grapples & an ATV. Two 26′ trucks of supplies collected by GSPCS and Gary Eckel also arrived. As Rockport's systems and infrastructure were restored, the DRT moved north to Fulton where they worked from 9/19-20. Texas DRTs:
Cleared 36 properties of debris and large oak trees;
Cleared 1 road accessing 5 homes;
Distributed 1,200 cs of water; and
Distributed clothing, hygiene supplies, diapers, cleaning and other supplies.
View more images from the Florida DRM in our Facebook album.
RECON DRM TO PUERTO RICO
SDIA is sending a small, 4-man DRT to Puerto Rico to assess damage and assist with chainsaw operations, clearing roads and tree/debris removal. At this time, no future deployments to PR are planned.
These DRMs depleted our resources – we need and greatly appreciate your continued support. Financial donations can be made securely online at www.sheepdogia.org/get-involved/donate. (Cash and fuel cards can be dropped off at or mailed to: SDIA National Office, 1200 W. Walnut St., Suite 2301, Rogers AR 72756).
THANK YOU to all who have donated and/or supported SDIA on these Disaster Response Missions. Without YOU, we could not go and help those in need.
Visit our Facebook page (@SheepDogIA) for more photos, stories and information.