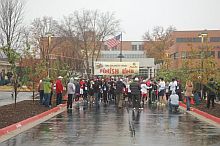 This years Turkey Trot was a great success! The weather was a little nasty, but we had a good showing considering. We cannot say Thank You enough to everyone that participated in the run. And a special Thank You goes to our sponsors & volunteers, we could not have made this event happen without the people who were willing to get up early on Thanksgiving Day morning and stand in the cold wind and rain.
We are already making plans for next years run, so start training now, and start encouraging your friends and family to join you for next years Turkey Trot. We look forward to having this as an annual event in Rogers/Bentonville every Thanksgiving!
We have several additional pictures posted on our facebook page if you are interested.