Warrior Dash Honoring Cyle Harris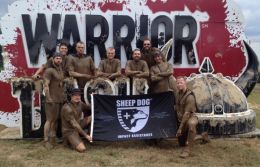 Many of our members had a great day last Saturday at the Warrior Dash in Amity, AR! We dedicated the run to Cyle Harris, a former soldier and fireman diagnosed with ALS. The Sheep Dog IA flag we carried during the run is inscribed with Cyles service record. A great event for honoring Cyle, and for some Sheep Dog comraderiee. Semper Fi brother! — in Amity, AR.
Cyle Harris is a disabled veteran and a Sheep Dog, and like many Sheep Dogs, he has sacrificed much for his country and community over the years. In October of 2008, Cyle was diagnosed with amyotrophic lateral sclerosis (ALS), also known as Lou Gehrig's disease. During his 39 years, Cyle has served his country in politically unstable regions and witnessed life-threatening scenarios as an emergency medical technician and fireman with the Sherwood, Arkansas Fire Department. Yet his fight against ALS is probably his most daunting. ALS affects a persons ability to move, eat, speak and breathe and has no treatments or a cure.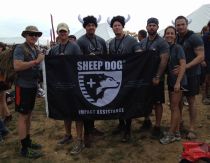 Those diagnosed with the disease typically have a survival rate of two to five years from the date of their diagnoses. Nonetheless, the retired Army veteran tirelessly strives to educate his community about this disease. And as all Sheep Dogs know, "Helping Others is a Way of Life".
You can read more about Cyle Harris and his fight via our Sheep Dogs in the News article.