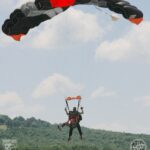 Disasters are not on a schedule. To keep our Sheep Dogs engaged each month, we created our Outdoor Adventures program to provide them with physically challenging activities that foster camaraderie.
Our Outdoor Adventures include hunting & fishing trips, obstacle course races, skydiving, scuba diving, hiking and many more activities. For our sponsored Sheep Dogs (those injured in combat or the line of duty), these adventures help them Get Off The Couch, test their rehabilitation progress, restore independence and self-confidence, and support living an active life. These opportunities for camaraderie and peer support are vital to inspiring a positive state of mind and perspective.
If you are interested in joining in the adventures, or know of a Sheep Dog who would benefit from the fun and camaraderie, please email SWest@SheepDogIA.org or click here to complete the Application/Vetting Form to get on our waiting list.
#GetOffTheCouch