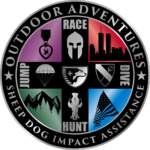 Disasters are not on a schedule, so we looked for other ways to keep our Sheep Dogs engaged each month – opportunities that would provide them with new challenges and foster camaraderie.
The Outdoor Adventures program accomplishes this, and includes hunting & fishing trips, obstacle course races, skydiving and scuba diving. For our sponsored Sheep Dogs (those injured in combat or the line of duty), these adventures present them with challenges that test their rehabilitation progress, restore independence and self-confidence, and reengage them in living life to the fullest. These opportunities for camaraderie and peer support are vital to inspiring a positive state of mind and perspective.
If you are interested in joining in the adventures, or know of a Sheep Dog who would benefit from the fun and camaraderie, please email SWest@SheepDogIA.org or click here to complete the Application/Vetting Form to get on our waiting list.
---
CURRENT UPCOMING OUTDOOR ADVENTURES

MARCH
21-24    Spring Upland Game Bird Hunt (Whitewright, TX)
28-31    Spring Hog Hunt sponsored by ProTrucks (West TX)
30          Central AR Chapter – Heroes Ruck Challenge (Little Rock, AR)

APRIL
25-5/27 Carry The Load West Coast Relay (Seattle, WA, to Dallas, TX)
29-5/27 Carry The Load East Coast Relay (West Point, NY, to Dallas, TX)

MAY
2-5         Spring Fishing Trip (White River, AR)
3-27       Carry The Load Midwest Relay (Minneapolis, MN, to Dallas, TX)
3-6         Buffalo River Adventure (Eureka Springs, AR)
26-27     Carry The Load Memorial March (Dallas, TX)
30-6/2   St. Louis Chapter – Muddy Adventure (St. Louis, MO)
---