For the first time in our history, #SDIA deployed a #DisasterResponse Team (DRT) outside of the US to the #Bahamas. The DRT departed on Wed., 9/11, and arrived in Miami, Florida, Thursday evening. The Team's transportation to the Bahamas was originally slated for Fri., 9/13; however, Tropical Storm Humberto and logistical issues caused delays. We are happy to report that the Team disembarked the ship for relief efforts the morning of Mon., Sept. 16, and immediately went to work helping Bahamians by covering leaking roofs and windows, removing trees and debris from homes & properties, and distributing supplies. You can follow our Bahamas #DisasterResponseMission (DRM) right here, and on our social media pages (Facebook @SheepDogIA; Instagram @sheep_dog_impact_assistance). Want to know where they're at? You can see their location in real time by clicking this link: https://tinyurl.com/y45n2klq We need your support so that our DRT can help as many people as possible! Please join our Team...
During our first deployment to northwestern Florida for Hurricane Michael recovery efforts, we accomplished a lot of great work. Even though we're not seeing the devastation as much in the media, there is still an enormous amount of work to do. To that end, Sheep Dog Impact Assistance (SDIA) will send a second deployment of Disaster Response (DR) Teams to northwestern Florida from November 12-19. DR Volunteers from across the country will join in the tree & debris removal, covering leaking roofs, and other recovery efforts. But we won't be successful without YOUR support. #GetOffTheCouch with us! If you are willing and able to deploy for up to 4 work days anytime during this period, review the linked info (https://bit.ly/2EUPGHb) and contact JDixon@SheepDogIA.org. (If you are not currently an SDIA Member/Volunteer, please sign up prior to volunteering for this DR mission at www.SheepDogIA.org/membership.) #Donate to become part of our DR team! With this deployment, SDIA is again asking for gift...
ConnectingVets.com story by Phil Briggs (9/20/18, 12:45pm)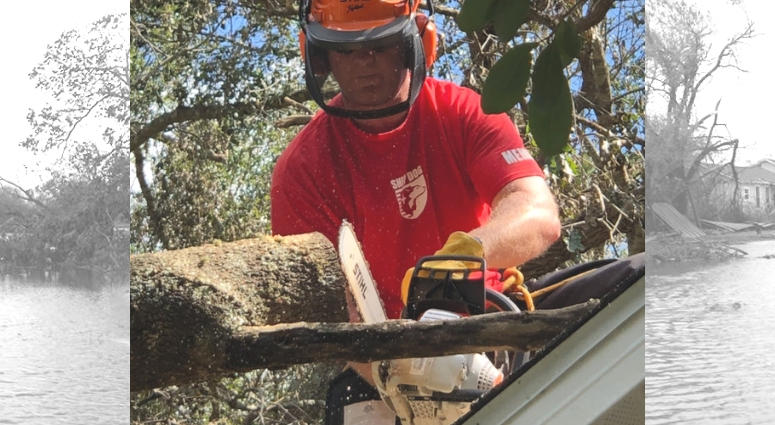 Sergeant Major Lance Nutt had barely finished his retirement ceremony last Thursday, when he packed his bags, loaded up trailers and headed to Wilmington, NC, along with members of the organization he founded, Sheep Dog Impact Assistance (SDIA).
"Just getting into areas like Lumberton and Wilmington, NC was next to impossible because the roads were either completely flooded, or washed out," he says.
SDIA's Initial Response Team members are no strangers to disaster relief.  The veteran-staffed relief organization was on site to assist residents after Hurricane Harvey hit Texas one year ago.  Now, as a tent city comes together in a Home Depot parking lot in North Carolina, they have 60-100 veterans who break into teams to perform chainsaw work and delivery of food and supplies.
"Home Depot and Operation BBQ Relief have been great.  They've partnered with us and are making it possible for us to get the supplies and deliver meals. We're currently packing over 300 meals for delivery today,"  says Nutt.
Click here to continue reading…
Read more: "How You Can Help Carolina Flood Victims"
Sheep Dog Impact Assistance (SDIA) will host their 6th Annual Heroes Gala on Saturday, April 21, 2018, from 5:30-11:00PM at the John Q. Hammons Convention Center in Rogers. This year's Heroes Gala will include a limited-seating VIP Reception at 4:30pm, followed by a social hour and silent auction bidding, a short ceremony, dinner and dancing. Awards to honor those Sheep Dogs who have lived out the SDIA motto, "Helping Others is a Way of Life," will be presented to Military, Law Enforcement, and Fire & Rescue "Sheep Dogs of the Year." Funds raised during the evening will be used to help more of our nation's Sheep Dogs #GetOffTheCouch with SDIA's Disaster Response and Outdoor Adventure programs.
Guest speaker, SSgt Jose Sanchez (USMC, Ret.), and emcee, Cpl Aaron P. Mankin (USMC, Ret.), will entertain and inspire attendees with their life stories and anecdotes throughout the evening. SSgt Sanchez is an active SDIA member who suffered severe injuries...
Want to check hiking Machu Picchu off your bucket list? Join Sheep Dog Impact Assistance July 24 - August 5 and travel to Peru with Legend Treks to serve the people of Cusco, Pisac, Puno and Lake Titicaca with much needed eye clinics. Halfway through the trip, you will have your opportunity to hike Machu Picchu and be guided on a tour of this archeological site's history and significance. (Visit our Facebook page to see images from our 2017 exploratory trip.)
The total cost of this trip is estimated at $2,000-2,500. Expenses include the following. (Note: There are no sponsorships available for this trip.)
Flights are $950-1,250 round trip; it is recommended to fly through Houston (IAH) to Lima to Cusco; flights also go through Bogota, Columbia, to Cusco. The earlier you book your flights, the more money you will save. Land Cost package is $950 and includes transportation to/from the airport in Cusco, baggage fees, Machu Picchu...
Last month, Sheep Dog Impact Assistance (SDIA) sent three Sheep Dogs in Need on our final Outdoor Adventure of 2017 . They were welcomed by Fallin Feathers Duck Club in Pocahontas, AR, for two exciting days of duck hunting December 12-14, 2017. In addition to incredible hunting grounds, the atmosphere at Fallin Feathers helped foster the camaraderie many Sheep Dogs search for outside their military and/or first responder professions. Getting injured veterans and first responders off the couch and around other Sheep Dogs who have been through similar situations is vital to inspiring a positive state of mind and perspective for the Sheep Dog and their family.
We are excited to announce Fallin Feathers will partner with SDIA for another hunt this month (January 15-18), and hopefully many more to come. Know of a Sheep Dog in need who would benefit from the camaraderie and excitement of our Outdoor Adventures? Go to sheepdogia.org for more...
The scene at SDIA's 4th Annual Christmas Outreach Party on Saturday, December 16, was one of joy and excitement for all the children and families in attendance. Because of the generosity of so many giving and caring people, SDIA made Christmas wishes come true for more than 250 children! All of these kiddos have parents that are currently serving, or have served, in the military or first responder community, and are struggling with financial difficulties this holiday season. The ability of SDIA to help those that make our country a safer place - our nation's Sheep Dogs - truly brings the meaning of the holiday season to life. Our Christmas Outreach party is an event that we look forward to every year; we invite the families we are helping for Christmas and make sure they know how much we appreciate them during this special time of year. We cannot say Thank You enough to the many volunteers and businesses - like Walmart...