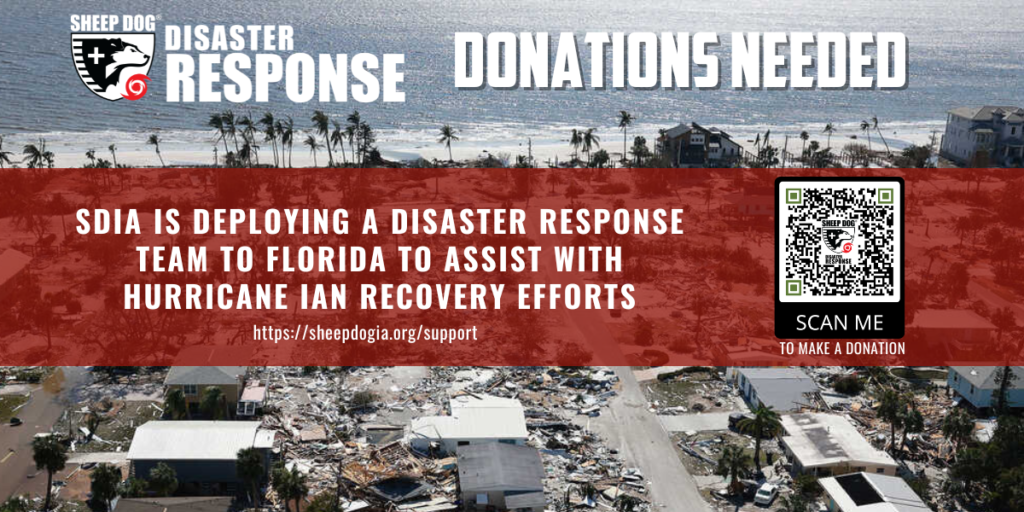 Sheep Dog Impact Assistance (SDIA) is deploying a Disaster Response (DR) Team to Florida to assist with Hurricane Ian recovery efforts.

The DR Team will depart from Northwest Arkansas this Sunday, October 2, 2022, at 0900, and will return on Friday, October 7. SDIA Teams and Chapters in the southeastern US will also be deploying volunteers who will meet up with the NWA team in the Atlanta area or at the final/staging location in the Ft. Myers, FL area. Details and locations are still being finalized.

ALL DR VOLUNTEERS MUST REGISTER, ELECTRONICALLY SIGN OUR WAIVER, AND HAVE MEDICAL INSURANCE TO DEPLOY.
If you are available to deploy, please CLICK THE BUTTON ABOVE. After registering, you will be added to the list of DR volunteers and will receive deployment details and recommended gear.
Deployment Details:
DR Team will depart from Northwest AR on Sun., October 2, at 0900.
Registered volunteers should arrive at the Center for Nonprofits (1200 W Walnut St, Rogers AR) no later than 0830 for briefing. 

If you have not registered as a DRM Volunteer, you will not be allowed to deploy.

Team will rally Sunday evening between 1900-2100 at the Shell station located at 270 N Lee St, Forsyth GA 30129. Team will stage in the Ft. Myers, FL area (location to be confirmed).
Team will return home Friday, October 7.
Lodging and other details are being finalized. All registrants should come prepared to sleep in tents until we have confirmed a location to sleep indoors.
Work will primarily consist of tarping roofs and chainsaw operations; there may be some muck-out work.
Additional deployments are possible, but will be determined at a later date.
Requirements for Deployment – All Registrants MUST:
Sign and submit the online Waiver (https://cutt.ly/SDIA-Waiver);
Have proof of Health/Medical insurance;
Live within 500 miles/10 hour driving distance of the rally and/or staging location;
If not traveling with the team, be able to transport yourself to the rally point, and be able to pay for your personal expenses to/from the rally point, including fuel, food and any lodging. Once at the rally point, SDIA will provide food and lodging.
A Required Gear list and details will be provided to registered volunteers.
---
Can't deploy but want to help? **EVERYONE** can be part of our DR Team by making a donation!

We are in desperate need of financial donations, as well as gift cards for fuel and to Lowes, and Walmart to replenish supplies. Our team will purchase much of what is needed as they near their staging area in Florida.

Supplies needed for the deployment (THESE ARE THE ONLY SUPPLY DONATIONS WE WILL BE ACCEPTING):
Roofing nails WITH PLASTIC CAP;
Tarps (all sizes); and
Canned 2-cycle fuel for chainsaws.
Secure online financial donations can be made via our website. Gift cards and financial donations can also be dropped off or mailed to Sheep Dog Impact Assistance, 1200 W. Walnut St., Suite 2310, Rogers AR 72756.
Thank you for your support of Sheep Dog Impact Assistance, our nation's Sheep Dogs and communities affected by natural disasters.

***Please share this message with friends and family that may be interested in supporting SDIA's efforts.***