Founded in 2010, Sheep Dog Impact Assistance (SDIA) is a national non-profit organization founded and headquartered in Rogers, Arkansas. SDIA exists to engage, assist and empower our nation's "Sheep Dogs" (military veterans, law enforcement, fire & rescue, and EMS personnel) to Get Off The Couch™ and reengage in living a meaningful and productive life.
These heroes have an innate desire to serve and their service gives purpose to their lives; however, after an injury or shift/tour of duty ends, that purpose is often lost. By gathering together Sheep Dogs who have suffered similar traumas & experiences, SDIA has found that the camaraderie and peer support they receive fosters healing and is critical to their overall well-being, which helps prevent suicides in our Veteran and First Responder communities.
Joining SDIA in opportunities for physical activities, camaraderie & healing (Outdoor Adventures), training to transform struggle into strength and posttraumatic growth (Warrior PATHH), and volunteer opportunities for continued service (Disaster Response), a Sheep Dogs' innate desire to serve is again fulfilled. When Sheep Dogs #GetOffTheCouch together, their attitude and perspective are drastically improved, and many find healing and a renewed sense of purpose.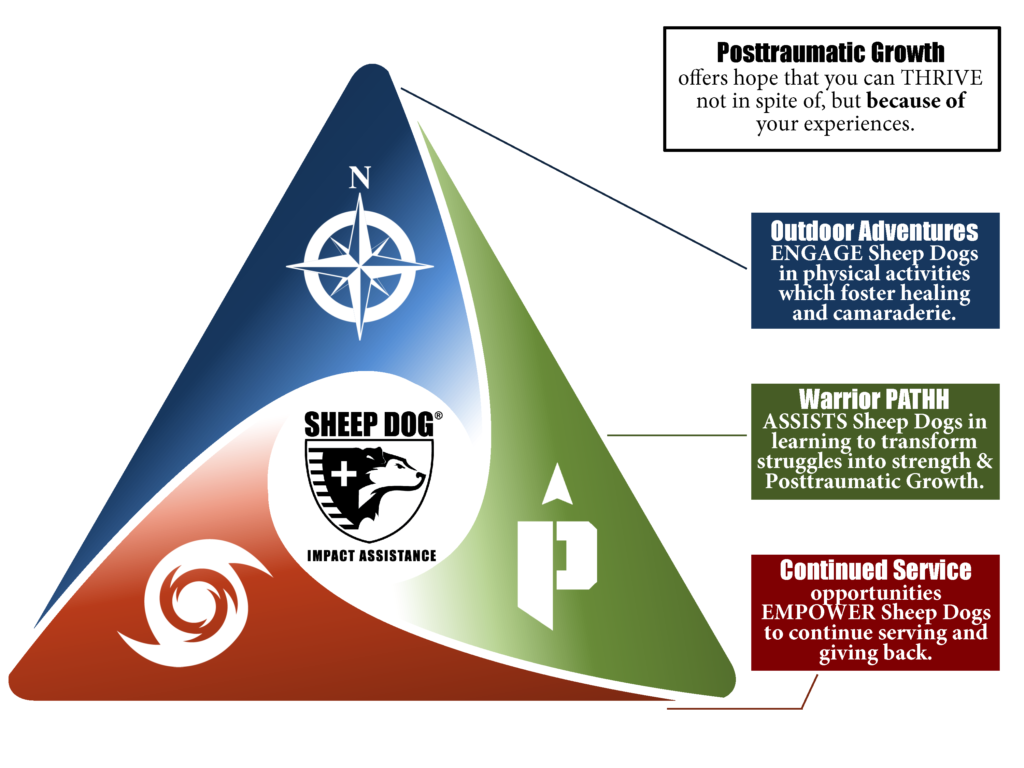 For Sheep Dogs, "Helping Others is a Way of Life."
SDIA has Teams & Chapters across the United States, and more than 50,000 members, volunteers and supporters worldwide.
Here is how the sheep and the Sheep Dog think differently. The sheep pretend the wolf will never come, but the Sheep Dog lives for that day. After the attacks on September 11, 2001, most of the sheep, that is, most citizens in America said, "Thank God I wasn't on one of those planes." The Sheep Dogs, the warriors, said, "Dear God, I wish I could have been on one of those planes. Maybe I could have made a difference." When you are truly transformed into a warrior and have truly invested yourself into warriorhood, you want to be there. You want to be able to make a difference.

Lt. Col. Dave Grossman (US Army)
Author of On Combat