To provide a civilian framework through which trained emergency and military personnel extend their service to society; to assist our neighbors in times of disaster and our own in times of hardship; to respond independently, efficiently and strategically, achieving the greatest impact possible.
Our Programs
Disaster Response
This is what SDIA was founded on, and continues to be our primary continued service opportunity. When a natural disaster strikes, teams of skilled Sheep Dogs and volunteers deploy to provide immediate "impact assistance" to devastated communities.
Teams provide help through chainsaw work, tree & debris removal, muck-out operations, covering roofs & windows, distributing food & water, and other meaningful tasks.
"It felt so good helping people and talking to folks in need. At the end of each day I felt beat up and tired…and very happy looking forward to the next day. I have a need to serve as it makes me whole as a human. Through this organization I get to be part of something bigger than me."

–Scott S., Army Veteran and first-time Disaster Response volunteer

Interested in deploying on an SDIA Disaster Response Mission (DRM)? Email DRM@SheepDogIA.org.
Looking for what to pack/bring with you on the DRM? You can find a list of Required and Recommended Gear here.
(NOTE: We respectfully request that you become a registered Member or Volunteer with SDIA prior to deploying. Visit our Membership page to join.)
Outdoor Adventures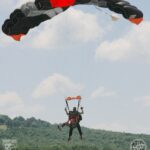 Disasters are not on a schedule. To keep our Sheep Dogs engaged each month, we created our Outdoor Adventures program to provide them with physically challenging activities that foster camaraderie.
Our Outdoor Adventures include hunting & fishing trips, obstacle course races, skydiving, scuba diving, hiking and many more activities. For our sponsored Sheep Dogs (those injured in combat or the line of duty), these adventures help them Get Off The Couch, test their rehabilitation progress, restore independence and self-confidence, and support living an active life. These opportunities for camaraderie and peer support are vital to inspiring a positive state of mind and perspective.
If you are interested in joining in the adventures, or know of a Sheep Dog who would benefit from the fun and camaraderie, please email SWest@SheepDogIA.org or click here to complete the Application/Vetting Form to get on our waiting list.
#GetOffTheCouch