To provide a civilian framework through which trained emergency and military personnel extend their service to society; to assist our neighbors in times of disaster and our own in times of hardship; to respond independently, efficiently and strategically, achieving the greatest impact possible.

Our Programs
Disaster Response
This is what SDIA was founded on, and continues to be our primary continued service opportunity. When a natural disaster strikes, teams of skilled Sheep Dogs and other volunteers are deployed to provide immediate "impact assistance" to devastated communities through tree and debris removal, muck-out operations, covering roofs & windows, distributing food & water, and other meaningful tasks.
Interested in deploying on an SDIA Disaster Response Mission (DRM)? Email DRM@SheepDogIA.org.
Looking for what to pack/bring with you on the DRM? You can find a list of Required and Recommended Gear here.
(NOTE: We respectfully request that you become a registered Member or Volunteer with us prior to deploying. Visit our Membership page to join.)
Outdoor Adventures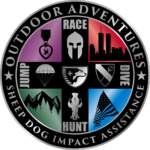 Disasters are not on a schedule, so we looked for other ways to keep our Sheep Dogs engaged each month – opportunities that would provide them with new challenges and foster camaraderie.
The Outdoor Adventures program accomplishes this, and includes hunting & fishing trips, obstacle course races, skydiving and scuba diving. For our sponsored Sheep Dogs (those injured in combat or the line of duty), these adventures present them with challenges that test their rehabilitation progress, restore independence and self-confidence, and reengage them in living life to the fullest. These opportunities for camaraderie and peer support are vital to inspiring a positive state of mind and perspective.
If you are interested in joining in the adventures, or know of a Sheep Dog who would benefit from the fun and camaraderie, please email SWest@SheepDogIA.org or click here to complete the Application/Vetting Form to get on our waiting list.
---
CURRENT UPCOMING OUTDOOR ADVENTURES

MARCH
21-24    Spring Upland Game Bird Hunt (Whitewright, TX)
28-31    Spring Hog Hunt sponsored by ProTrucks (West TX)
30          Central AR Chapter – Heroes Ruck Challenge (Little Rock, AR)

APRIL
25-5/27 Carry The Load West Coast Relay (Seattle, WA, to Dallas, TX)
29-5/27 Carry The Load East Coast Relay (West Point, NY, to Dallas, TX)

MAY
2-5         Spring Fishing Trip (White River, AR)
3-27       Carry The Load Midwest Relay (Minneapolis, MN, to Dallas, TX)
3-6         Buffalo River Adventure (Eureka Springs, AR)
26-27     Carry The Load Memorial March (Dallas, TX)
30-6/2   St. Louis Chapter – Muddy Adventure (St. Louis, MO)
---
Holiday Assistance
The holidays are a wonderful, happy time for most, but for those dealing with financial hardships, medical issues, loss, or other troubles, the holidays can be especially difficult. Through our holiday programs, we are able to assist these struggling Sheep Dog families in two ways.
Thanksgiving Outreach – 

struggling Sheep Dog families are provided with a full, traditional Thanksgiving meal.

Christmas Outreach – 

the children of struggling Sheep Dog families are adopted and each are given gifts of toys, clothing and other necessities.
SDIA members give back by volunteering their time to pack and deliver items to these families, and assisted Sheep Dogs can better enjoy the holidays.
Asheville Adventure Weekend & Spartan Super, August 6, 2016 – U.S. Navy veteran and firefighter, Jamie Smith felt the Spartan Super's grueling 9-mile course and 25 obstacles provided the challenge he was looking for. After being injured as a firefighter, Smith was told he would never walk again and was confined to a wheel chair for two years. He worked hard to get back on his feet, and the Super pushed him to his limits. It also gave him much needed closure for the loss of friends, fellow veterans and firefighters. "I had their names on my shirt, and I carried them with me through [the Spartan race]. They will forever be in my heart and mind, but I was able to get through some bad things on that day. I found a way to heal inside and out."
Yosemite Adventure, May 29-June 2, 2016 – "Sheep Dog Impact Assistance gave me the chance to exercise a part of myself that these days is often left dormant – the part of me that is proud to be a Marine around other service members," said Cpl Aaron P. Mankin, who was wounded during an Improvised Explosive Device (IED) attack near the Syrian border in 2005. Six Marines were lost in the attack, and Mankin walked away with 2nd and 3rd degree burns to his hands, arms and face. Being with fellow Sheep Dogs turned things around for him. "The healing is so organic that you don't even realize it's happening. That's the beauty of surrounding myself with Sheep Dogs…I realized once again that I am a Sheep Dog. For life."