For our 7th year, Sheep Dog Impact Assistance (SDIA) has been selected as a Non-Profit Partner by Carry The Load. This is a tremendous honor and opportunity for our organization. Through this partnership, we can tell our story and what we do to a wider audience than ever before, while honoring the true meaning of Memorial Day and symbolically "Carry The Load" of those we've lost. 100% of funds raised/donated through the Sheep Dog Impact Assistance Company Team go directly to fund SDIA programs.
There are many ways to get involved, and you don't have to attend a Carry The Load event to participate with us. Whether at your home or elsewhere, you can "Carry It Anywhere" and still help raise awareness and funds for this event!
How to Get Started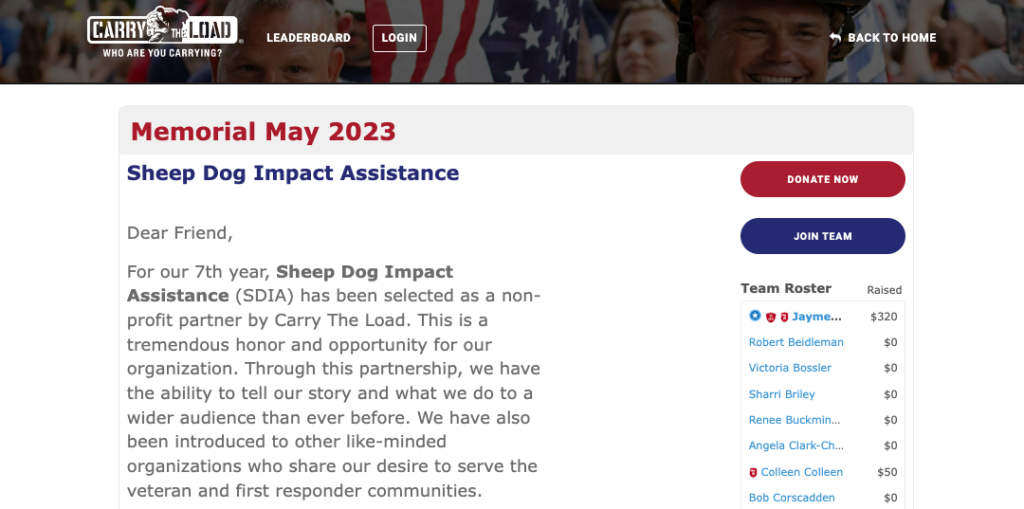 This will take you to the Sheep Dog Impact Assistance Company Team page on the Carry The Load website.
Next, in the upper right of the screen, choose Join Team (blue button) or make a donation (red Donate Now button).
Donate Now (red button)

Fill out the form and click the Process button to process your donation.
Join Team (blue button)

Select Option 2 – Memorial May Fundraiser
Enter your fundraising goal (optional)
Enter any donation you want give to Carry The Load (this will go directly to Carry The Load, NOT SDIA)
Click Next
Enter your information and click Next Step
Fill in the remaining screens to complete registration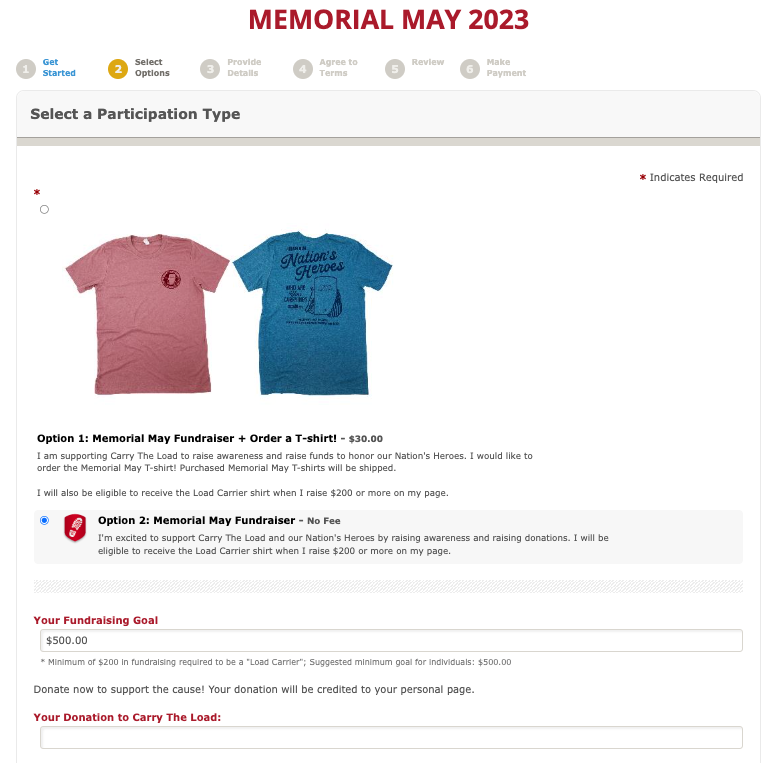 Once you complete the registration process, you can go to your Participant Center and add a Facebook Fundraiser to your profile with a click of the button. It's an easy way to ask your friends to donate to the cause as well!
You're on the Team – Post on Social Media!
Like, follow, and subscribe to Carry The Load's social pages:
When posting your photos:

Tag @SheepDogIA and any SDIA Team/Chapter pages you're a part of on that platform; and
Use the official #Hashtags.

#CarryTheLoad
#WhoAreYouCarrying
#AlwaysRemeber
#SheepDogIA
#GetOffTheCouch
Share how you plan to be a part of Carry The Load (i.e., a National Relay, City Rally, Dallas Memorial March, or Carry It Anywhere!

Share the story of those you're honoring and remembering who were lost in combat and/or the line of duty.
Fundraise! Fundraise! Fundraise!Why? All dollars raised by participants that join the SDIA Company go directly back to SDIA to fund programs that help our nation's heroes.
If you have any questions, please reach out to SDIA's Carry The Load contact:
Jayme Lingo, Director of Philanthropy
(740) 502-7475
jlingo@sheepdogia.org