Creating a Secure Future for Sheep Dog Impact Assistance and the Heroes We Serve
---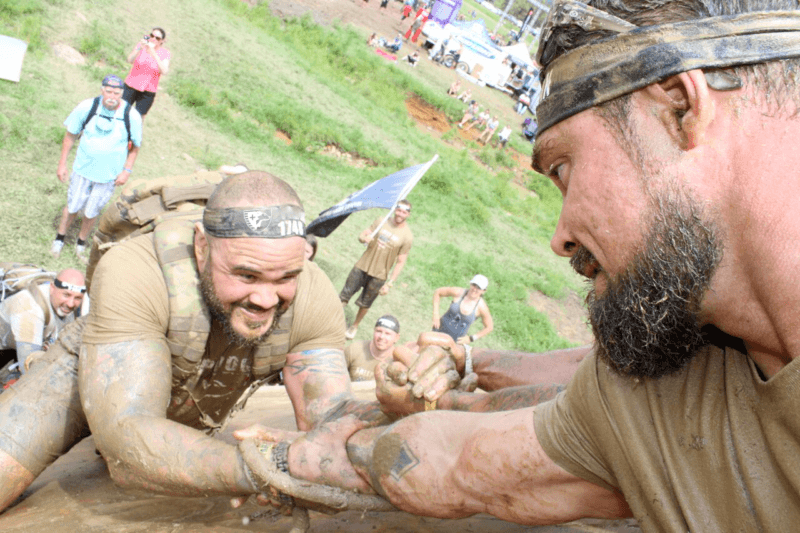 GOAL: $5,000,000
Since its inception in 2010, Sheep Dog Impact Assistance (SDIA) has used donations, sponsorships and fundraising for mission accomplishment and business expenses. We have reached a critical point in our growth which requires an increase in annual support to achieve our mission to engage, assist, and empower our nation's Sheep Dogs for years to come.
With the launch of our Heroes Shield Endowment Campaign, SDIA is searching for "Shield Bearers" – those who are committed to our mission and have the means and desire to support our continued success.
A Shield Bearer's investment will leave a legacy that provides for all SDIA programs to run at 100% every day, which will drastically improve the life of each Sheep Dog we assist.
---

THE NEED
With a successful campaign, SDIA will use the interest earned on endowment investments to provide for future Teams & Chapters, and for our staff and programs to function at the high levels our members, supporters and sponsors are accustomed. The need could not be more clear.
Our current staff and volunteers manage the following.
26 Chapters & Teams in 19 states in the US.
50,000+ members, volunteers and active supporters nationwide.
Heroes Ranch at Rush Springs – 50 acres and facilities used to host our Outdoor Adventure & Warrior PATHH programs.
24+ annual Outdoor Adventures which ENGAGE our nation's heroes in physical activities to foster camaraderie & healing, and promote an active lifestyle.
8-10 seven-day Warrior PATHH trainings that ASSIST Sheep Dogs in learning to transform their struggles into strength and posttraumatic growth.
Continued Service opportunities (like disaster response missions) to EMPOWER Sheep Dogs to continue serving and giving back to their communities and country.

---
THE IMPACT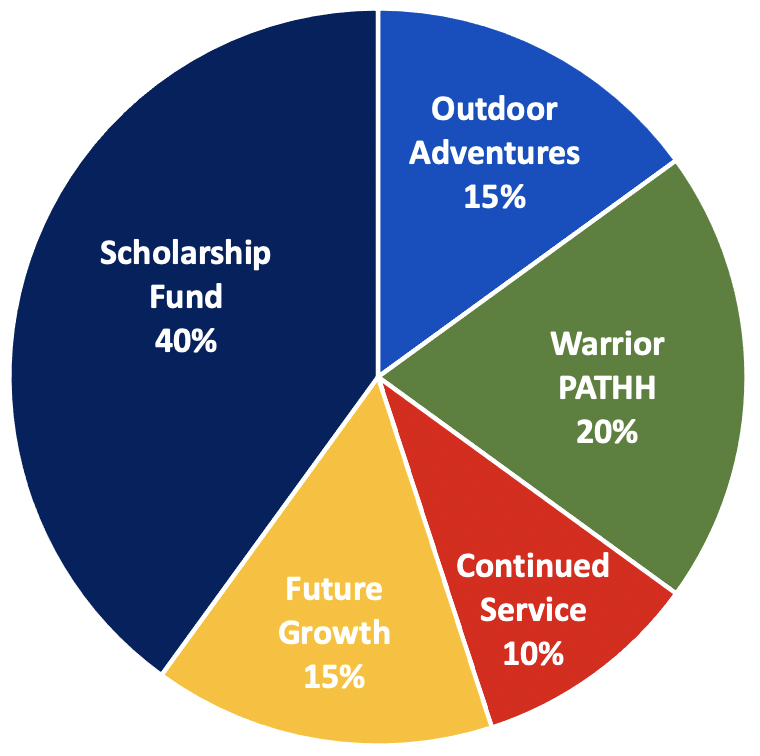 With your investment in Heroes Shield, SDIA will have the financial stability and funds to fully develop our programs to their potential, allowing us to change the lives of more Sheep Dogs in need than ever before. In addition to providing funds for continuing to grow our current programs, Heroes Shield will provide for a Scholarship Fund for Sheep Dogs and their families, as well as other opportunities for growth.
THE RETURN
Becoming a Shield Bearer is simple! Just make a donation by choosing one of these commitment levels to leave YOUR legacy and help our nation's heroes. Each commitment earns the contributor the title of "Shield Bearer" and the benefits listed below.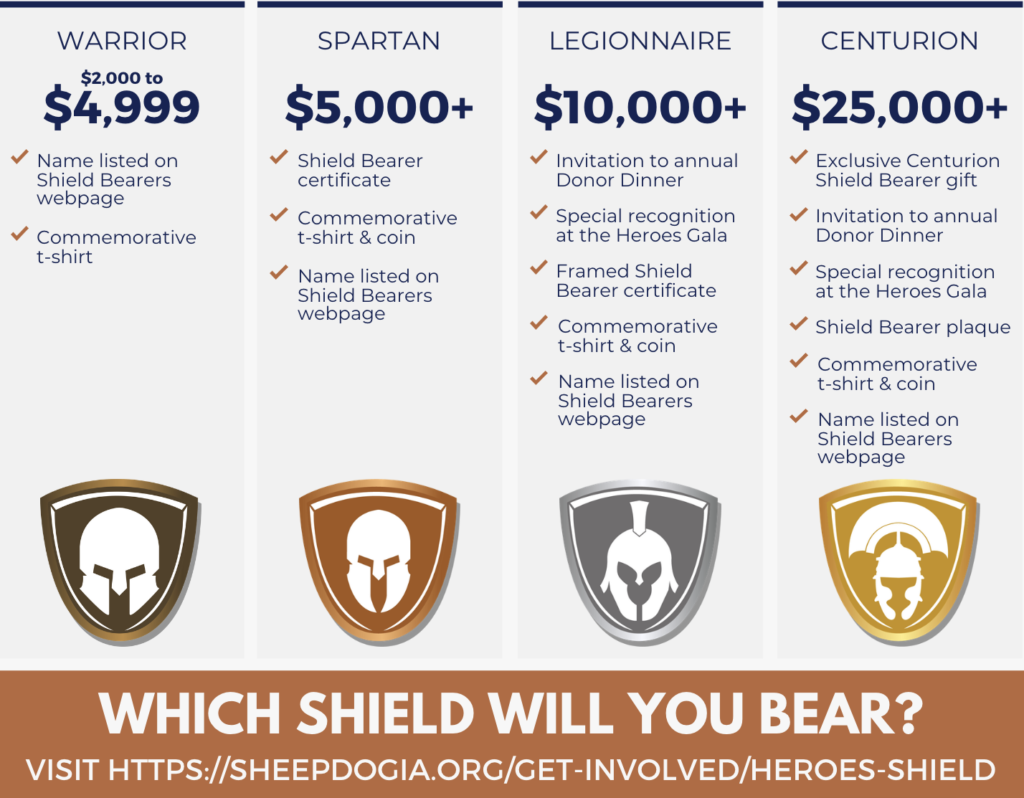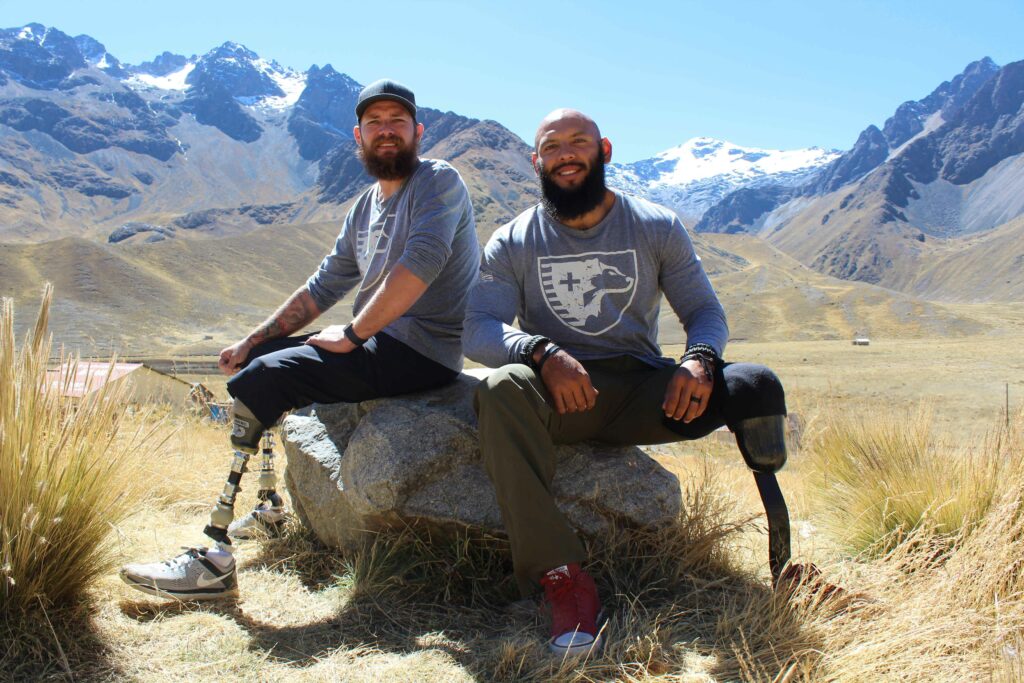 THE WHY
For Sheep Dogs, the standard of camaraderie, belonging & peer support they have experienced while serving is very high. Without it, Sheep Dogs struggle and lose their sense of purpose. To be with fellow Sheep Dogs who've "been there" has a profound effect and helps them reengage in life.
This camaraderie is rarely found outside of the military and first responder communities, but through our programs, Sheep Dogs find the desire to live their best lives.
Army SPC Scott West and Marine SSgt Jose Sanchez know this first hand. Both men were severely injured by improvised explosive devices overseas, but their physical recovery was only part of their struggle.
SPC SCOTT WEST, ARMY
SPC West had numerous injuries and lost both legs below the knee in 2005. He recovered well but became addicted to his painkillers, which resulted in divorce and no contact with his son. He felt useless, hopeless, and discontent. He tried rehab, relapsed, tried again, and completed the program, yet still isolated himself. He went on an SDIA skydiving adventure. "It was great!" West said. "But the camaraderie was even better." He found a brotherhood, and a new purpose for his life. "I spread the word about SDIA and find Sheep Dogs who feel life is hell and without purpose to go on adventures. It feels good to give back and show them there is a reason to drive on!"
SSGT JOSE SANCHEZ, USMC
SSgt Sanchez lost his left leg below the knee and damaged his right leg in 2011. He struggled for years to accept the "disfigured" man he had become. While vigorously pushing himself in physical therapy, he hid his legs and isolated himself for fear of others' judgment. However, after running a Spartan Race with SDIA, Sanchez was empowered to show his legs and talk about his injuries and struggles. In SDIA,he found a family and support system that gave him a new purpose. "[I realized] it was not about me,"Sanchez said, "but about helping others through my own battles…being able to show others that we are still fighting."