Preliminary Nominations for the 2022 Sheep Dog of the Year awards are being accepted now through January 27, 2023

Sheep Dog of the Year Awards
It is that time again – time to ask for nominations for our Sheep Dog of the Year awards!
This award is an important way to recognize those among us who have gone above and beyond their call of duty in their military or first responder professions (law enforcement, fire & rescue, and EMS/paramedic). These awards are presented to Sheep Dogs who have modeled exemplary and/or heroic service during 2022. Although a single heroic incident may be worthy of consideration, special consideration is given to those nominees who have distinguished themselves and their profession throughout their careers.
If you know of someone whom you would like to nominate, please submit a preliminary nomination as instructed below.
Preliminary Nominations must be submitted no later than January 27, 2023.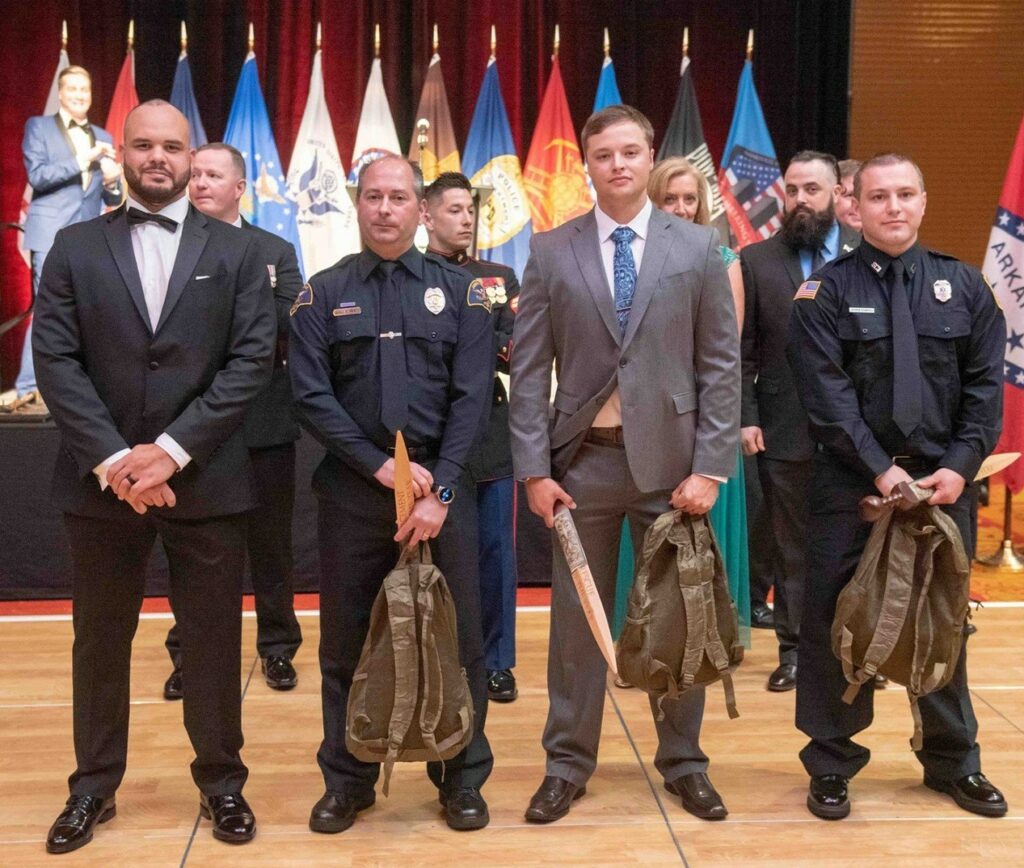 Sheep Dog Nomination Requirements
Nomination and Approval Process
Nomination Criteria
A "Sheep Dog" is a man or woman who has or is currently serving in our nation's military and/or first responder professions. For the purpose of this award, "Sheep Dog" means a living individual currently serving in the military, law enforcement, fire and rescue, or emergency medical services (EMS)/paramedic profession, and who is directly employed on a full-time, active, reserve or national guard basis by a local, country, state, federal government and/or agency, with or without compensation, who is duly sworn and has current job requirements, or completed their obligated service in the year they are nominated.
In addition, ALL ranks will be considered, but only if their job responsibilities require them to experience similar hazards and perform similar duties as those normally experienced and performed by peers.
"Support Personnel" employees shall be considered if they are recognized as having served in a capacity that directly supports the efforts of military or first responder personnel. For example, but not limited to, correctional officers, jailers, probation officers, 911 Call Center agents, etc. Make the case for your nominee and they will have their nomination package reviewed for consideration. Make a strong case for all nominees.
Less than full-time military and first responders (i.e., reserve, guard, volunteer, etc.) will also be considered. In such cases, eligibility will be determined after a review of several issues, including, but not limited to, job description and training.
Nominees may include individuals, or two or more nominees, provided that the persons being nominated worked in partnership or as a team.


How Do I Nominate a Sheep Dog?
Please submit a PRELIMINARY NOMINATION by January 27, 2023, to JMiller@SheepDogIA.org with the following information:

Name;
Rank;
Branch/Department of Service;
Total Years Served;
Photo; and
A brief summary of the distinguished service for which the nominee should be recognized, including, but not limited to:

Military, law enforcement, fire and rescue, EMS service;
Community service;
Extreme actions of valor; and
Commendations and other awards received.
If your nominee is selected by the SDIA Sheep Dog of the Year committee, you will be notified by January 31, 2023, and asked to complete and submit the full Sheep Dog of the Year nomination form. Further instructions will be given when you are notified.

Review and Selection Process
All nominations are reviewed by SDIA Sheep Dog of the Year committee members that ultimately pick the awardee. The review process may include discussion with the nominee, as well as the nominee's unit, department or agency, including, but not limited to, the nominee's commanding officer, top administrative officer, senior supervisor, co-workers, union or association, as well as private citizens served by the nominee. Prior to any decision becoming final or publicly announced, the selected recipient must provide written authorization for the award to be given and the notification process to proceed.
Once approved, a letter announcing the decision will be sent to the nominee, to the person who submitted the nomination, and to the top administrative officer or supervisor of the unit, department or agency involved.
Each Sheep Dog of the Year award winner is featured on www.SheepDogIA.org, annual newsletters, and on social media, including Facebook and Instagram.
Award Presentation
The Sheep Dog of the Year award presentation takes place each year at SDIA's annual Heroes Gala in Rogers, AR; 2023 awards will be presented by SDIA's founder and CEO, SgtMaj Lance Nutt, USMC (Ret.), on Saturday, April 22, 2023.
The online and printed Preliminary Nomination Form must be completed in their entirety and submitted by the January 27, 2023, deadline to be considered for the next level of nominations.
Written nomination forms should be sent to Sheep Dog Impact Assistance, ATTN: Sheep Dog of the Year Committee, 1200 West Walnut Street, Suite 2310, Rogers AR 72756.
Questions? Email JMiller@SheepDogIA.org.