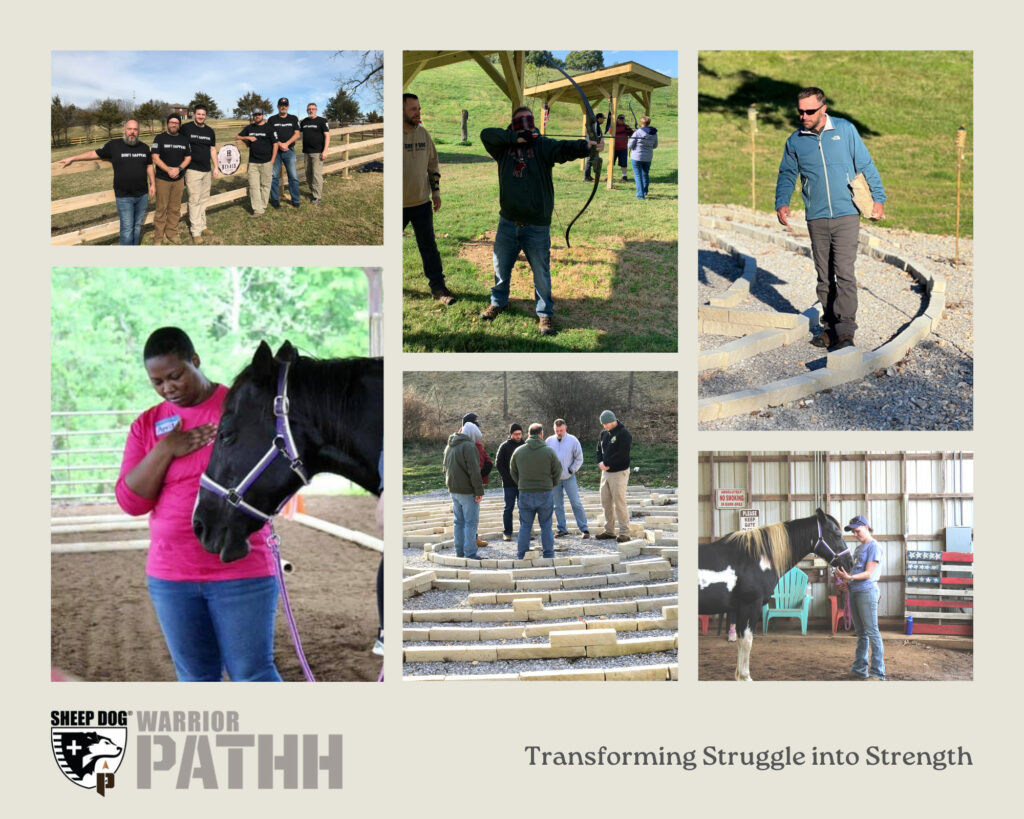 It is hard to believe that it has been a year since Sheep Dog Impact Assistance (SDIA) began conducting Warrior PATHH (WP) training courses in Northwest Arkansas. Our first course launched in March of 2021, and it has been an incredible journey filled with excitement, unexpected challenges, multiple locations, some hard lessons, and much healing.
Over these past twelve months, we conducted ten Warrior PATHH courses and facilitated the Posttraumatic Growth (PTG) of 73 Sheep Dogs. They have transformed their struggles into strength by making peace with their past, learning to live in the present, and have started making plans for a great future.
We haven't done this alone. It has been made possible, not only by the hard work of staff, but by our supporters, donors and the members of the Sheep Dog Teams and Chapters who have acted as keepers of their Sheep Dog brothers and sisters.
Please join SDIA as we celebrate this incredible accomplishment during this month of March. We are honored and humbled to have been part of the positive impact this program has made in the lives of our nation's heroes, and we thank YOU for your support of SDIA and our Warrior PATHH program. It has made the first year of Warrior PATHH at SDIA a resounding success. We can't wait to see what happens in 2022 and beyond.
---
Warrior PATHH is the nation's first non-clinical, peer-to-peer Posttraumatic Growth-based mental wellness training program. It is designed to ASSIST Sheep Dogs in learning how to use their past trauma and experiences to achieve PTG and launch themselves into living their best lives.
SDIA held their first course in Northwest Arkansas in March 2021. Each course brings together up to 8 Veterans and/or First Responders for an intensive and immersive seven-day initiation into the 90-day program. During this time, they learn tools and techniques to help them make peace with their past, live in the present, and plan for a great future. The small class sizes foster camaraderie, trust, and life-long friendships. As facilitators of the WP program, SDIA is proud member of the Gary Sinise Foundation Avalon Network.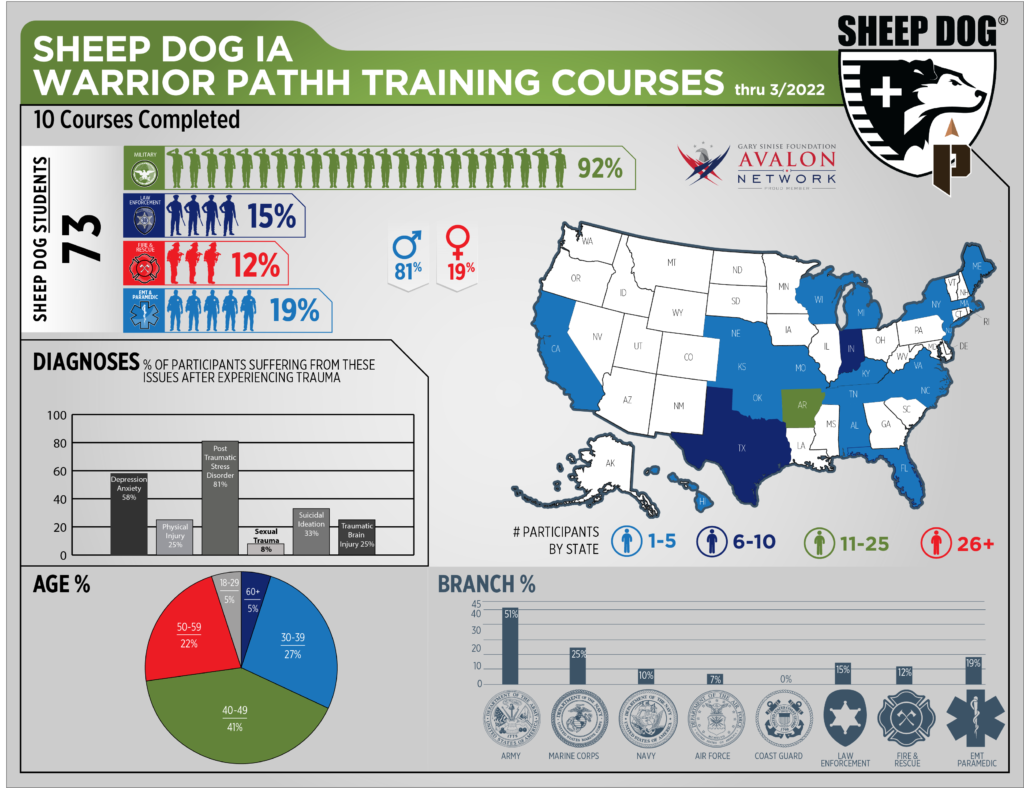 Over these past twelve months, SDIA conducted ten WP courses and facilitated the PTG of 73 Sheep Dogs. WP Students experienced incredible, positive change in their perspective on their lives and relationships.
Recent statistics from our Warrior PATHH Graduates show up to a:
71% reduction in traumatic stress symptoms;
69% increase in improved relationships;
90% increase in posttraumatic growth; and
52% reduction in symptoms of depression.
---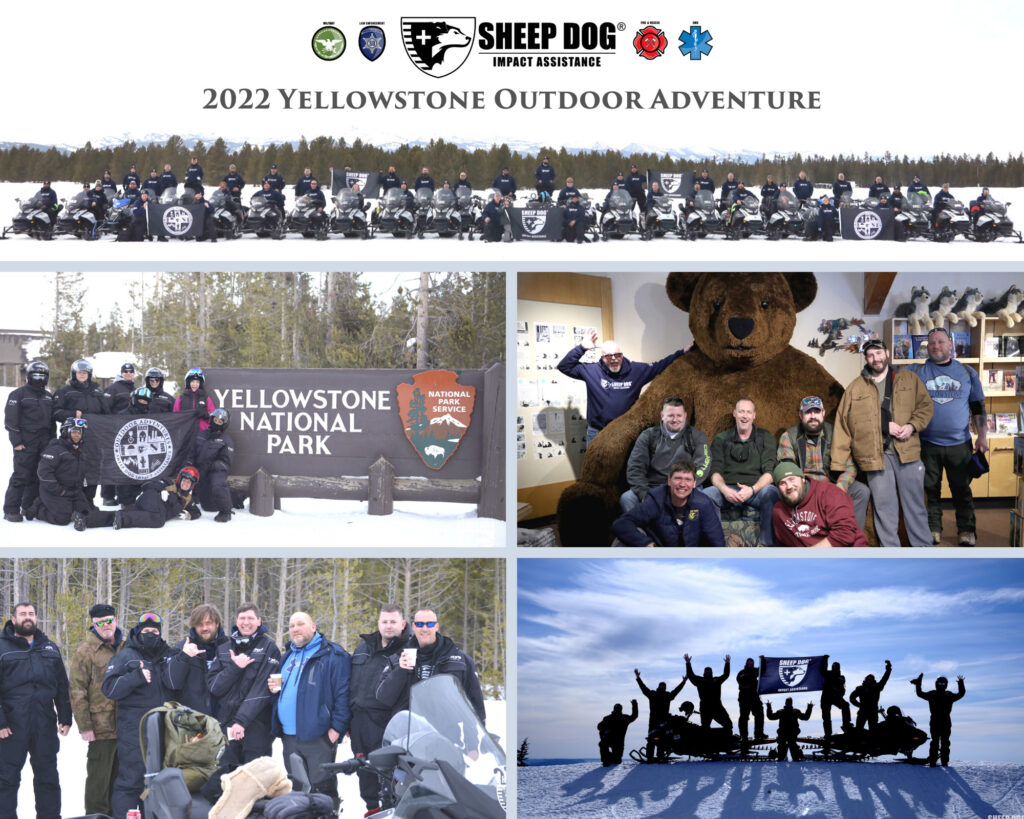 As part of the one-year anniversary, we sponsored members of the first few WP courses to participate in an Outdoor Adventure, giving them the opportunity to reconnect face-to-face with their tribe.
---
On November 11, 2021, SDIA broke ground on a dedicated Warrior PATHH Training Facility out at Heroes Ranch at Rush Springs (see below). This facility will provide space for all aspects of the WP course, including a classroom, loft/lounge area, lodging for all students, a full kitchen, and a dining room.
We have made great progress, but there is much yet to do. If you or your company are interested in partnering with SDIA to complete this building, please contact Jayme at JLingo@SheepDogIA.org or 740-502-7475.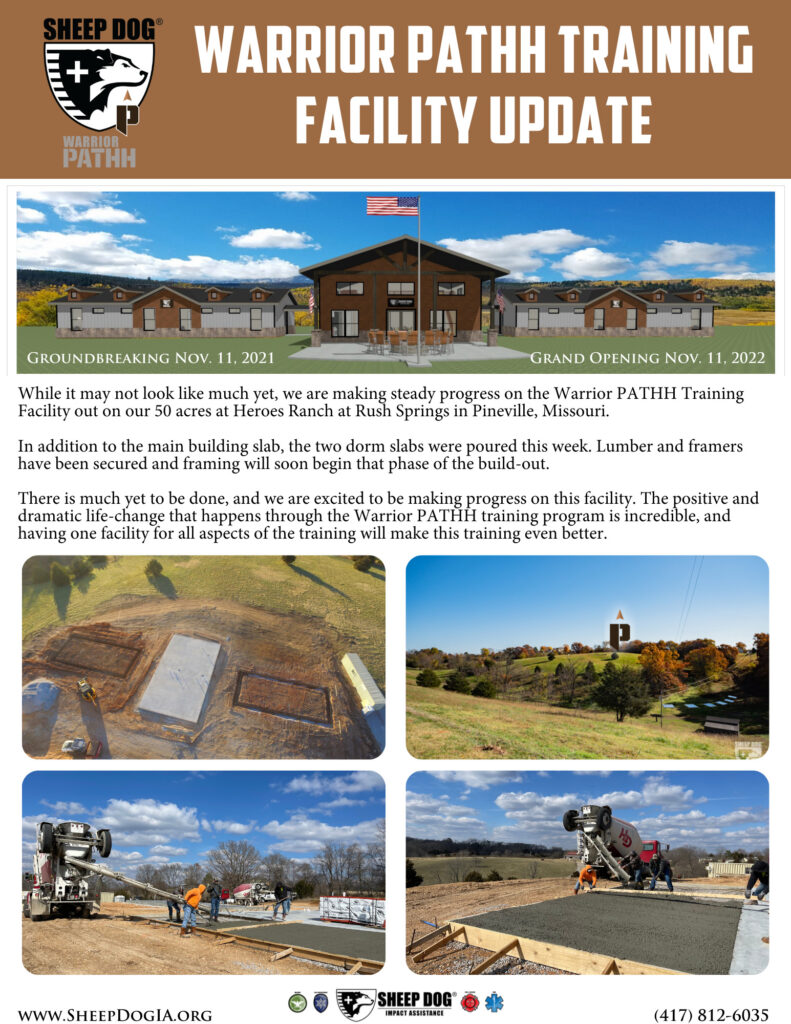 Please join Sheep Dog as it celebrates this incredible accomplishment during this month of March. And thank you for your continued belief in and support of SDIA and our mission to help Sheep Dogs #GetOffTheCouch and live their best lives. We truly could not do it without YOU.