SDIA IS TURNING 10!
It's hard to believe, but on July 13, 2020, SDIA will be 10 years old. That's:
10 years of helping our nation's heroes #GetOffTheCouch;
10 years of Disaster Response Missions and Outdoor Adventures;
10 years of lives changed by bringing Sheep Dogs together; and
10 years of working with amazing volunteers, supporters and sponsors to make it happen.
Here's a quick look at where we started, and how we got to where we are today.

OUR HISTORY
When Hurricane Katrina wiped out entire communities in 2005, people the world over were shocked by the devastation, and the fact that people sat for days without help…hungry, thirsty, injured, suffering and even dying. As most watched the horror unfold helplessly from their living rooms, the idea of Sheep Dog Impact Assistance (SDIA) began to take shape when then USMC Gunnery Sergeant Lance Nutt used years of emergency and logistical training to lead a strategic relief effort to Pass Christian, Mississippi. It was through this mission that SDIA was born. (You can read the full story of our history here.)

It took a few years of planning to get going, but the nonprofit paperwork was filed in 2009, and in December the first official mission using the name "Sheep Dog Impact Assistance" took place at Al Asad, Iraq. SDIA adopted more than 60 young service men and women for Christmas, including members of the civilian-manned fire station on base. They received goody bags filled with cookies, candy & support material. SDIA also assisted with the adoption of an Iraqi school, providing the children with water, gifts and school supplies.
2010 TO TODAY – Growth & Expansion

From seeing Hurricane Katrina's devastation, to taking action, to continuing those efforts has culminated in all that SDIA has become over the past 10 years. We have grown, developed & refined our programs, and expanded our impact across the United States.

When you get down to it, our mission is to help Sheep Dogs – Military Veterans and First Responders – #GetOffTheCouch by engaging, assisting and empowering these brave men and women through Disaster Response Missions and Outdoor Adventures. By gathering together Sheep Dogs who have suffered similar traumas and experiences for an opportunity to continue serving, we strive to prevent suicides in our Veteran and First Responder communities. Joining in our continued service opportunities satisfies Sheep Dogs' innate desire to serve, and the camaraderie and peer support they receive fosters healing and is critical to their well-being. When Sheep Dogs #GetOffTheCouch, their attitude and perspective are drastically improved, and many find a renewed sense of purpose. For Sheep Dogs, "
Helping Others is a Way of Life
" and "
Helping is Healing
."
57 DISASTER RESPONSE MISSIONS
Since 2010, SDIA has deployed on 57 Disaster Response Missions (DRMs). Of those missions, 13 were responses to hurricanes, 14 to floods, 25 to tornadoes, and 5 were to support firefighters battling wildfires on the West Coast. On those DRM teams were 1,071 volunteers who assisted 12,294 people, and cleared trees & debris from 878 properties. Volunteers also distributed: 15,439 lbs of food & meals; 6,156 cases of water/sports drinks/juice; and 28,352 lbs supplies (cleaning, medical, hygiene & misc).
"At the end of each day [on the DRM] I felt like I had helped to truly make a difference in the lives of all those we assisted and went to bed looking forward to what the next day would bring. By the time we loaded up to head home, my body was physically worn out, but I wouldn't have traded it for the world. One of the most rewarding ways to give back is to go on a DRM. Touching the lives of people who are sometimes at their most vulnerable, and leaving with them so appreciative of your efforts is worth every bruise and sore muscle." -DRM Volunteer

"My experiences are overwhelmingly great when I go [on a DRM]. I am emotionally excited, physically drained and thoroughly fulfilled each time. These trips are life changing for those that volunteer to serve, and I am no different." -Marine Veteran and Law Enforcement Officer

"Overall this was the most life changing thing I have been a part of this year. I was one who volunteered quite regularly while I was in the military. Unfortunately I had let that part of me slip a little bit. I had started to wonder if I would find a group like this any time soon where I feel drive to get more involved. Joining SDIA and deploying was just what I had been searching for to fill a self-worth void." -Air Force Veteran
---
124 OUTDOOR ADVENTURES
Since 2010, SDIA has hosted
124 Outdoor Adventures
and
sponsored 1,654 Sheep Dogs
for "bucket list" and physically challenging activities that have positively impacted their lives.
7 Major Outdoor Adventures – 292 Sponsored Sheep Dogs: New York City and the Tunnel to Towers Foundation 5K (x2); Yosemite National Park; Washington, DC; Machu Picchu, Peru; Yellowstone National Park (x2); and Buffalo River
55 Hunting, Shooting, Fishing, Hiking & Other Adventures – 775 Sponsored Sheep Dogs
35 Obstacle Races – 340 Sponsored Sheep Dogs
19 Skydiving, Skiing, & Scuba Diving Adventures – 145 Sponsored Sheep Dogs
8 Additional #GetOffTheCouch Events – 102 Sponsored Sheep Dogs
Our Outdoor Adventures not only provide Sheep Dogs with an opportunity for time away from day-to-day issues and anxiety, but particularly for sponsored Sheep Dogs – those veterans and/or first responders injured in combat/line of duty or experiencing intense stressors –  spending time outdoors with fellow Sheep Dogs is exactly what is needed. It fosters camaraderie, organic healing, and many times leads to a renewed sense of purpose to reengage in living a productive and meaningful life.
"I was able to get out and participate in something that I didn't think I was able to do anymore [because of my injuries]. I also learned that just being around other men that are struggling like me can be a type of therapy." –Marine veteran and quadruple amputee

"I always attempt to get off the couch as much as possible, but the weight I have put on makes it difficult to prolong the adventure. I became an SDIA member in 2018, and it has been the most motivating factor to get up and go out with the guys. The camaraderie of being around guys the same as me makes me motivated to try and get better. Even my wife stated I come back a different person [after an Outdoor Adventure] and wants me to continue going." –Marine Veteran


"Depression & lack of motivation have sometimes plagued me due to the complexity of 30 years in law enforcement; that combined with the death of co-workers throughout the years. Participating in events like this [Outdoor Adventure] definitely helps negative internal emotions, and I easily was able to relax and have fun!! For me, it also helps to be with others who may be struggling, and then be able to help them anyway possible…by motivating, assisting, or simply by listening." –Law Enforcement Officer
---
HOLIDAY PROGRAMS & Other Assistance
We are awaiting totals for 2019, but through 2018 more than 4,700 people were assisted during the holiday seasons.
2,570+ people, including 130+ Fire/Police/Sheriff Depts, were provided traditional Thanksgiving dinners/food
More than 1,740 children have been given Christmas gifts, 400+ first responders received gift bags/cards, and 30+ turkeys delivered to Fire/Police/Sheriff Depts
---
2020 WILL BE A SPECTACULAR YEAR

We have many things planned to make 2020 our most exciting year yet, and can't wait to share it all with you, because YOU made it all possible. Soon we'll be launching limited edition merchandise, will announce our special anniversary event/celebration and the incredible guests lined up  for our Heroes Gala on April 18, 2020 – like American hero Noah Galloway and Army veteran & musician Matt Williams! Trust us – you will not want to miss this year's Heroes Gala! Tickets and  more information will be released very soon.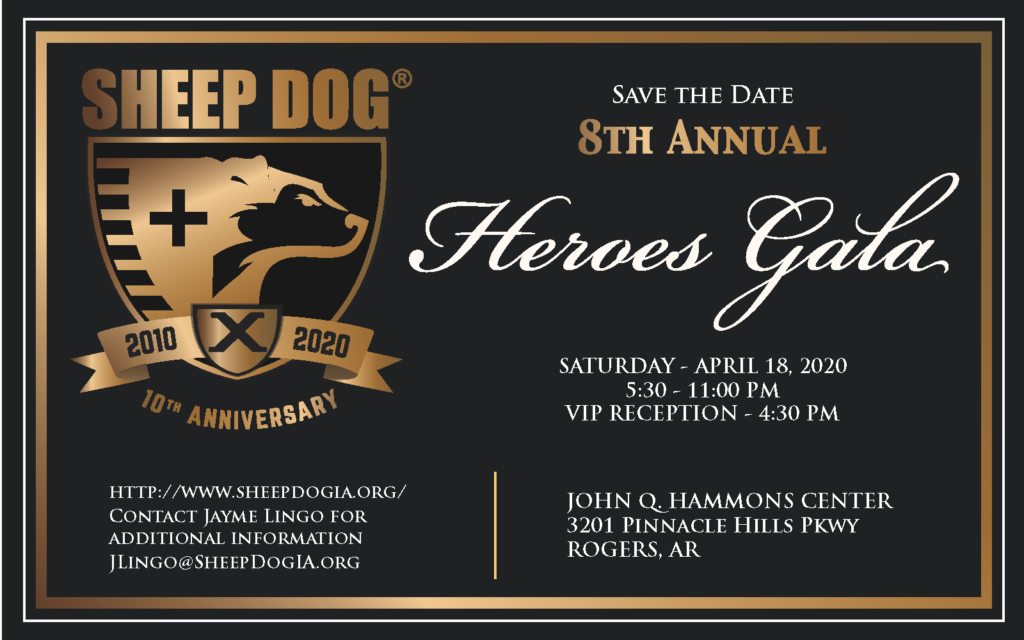 SPECIAL GUEST: NOAH GALLOWAY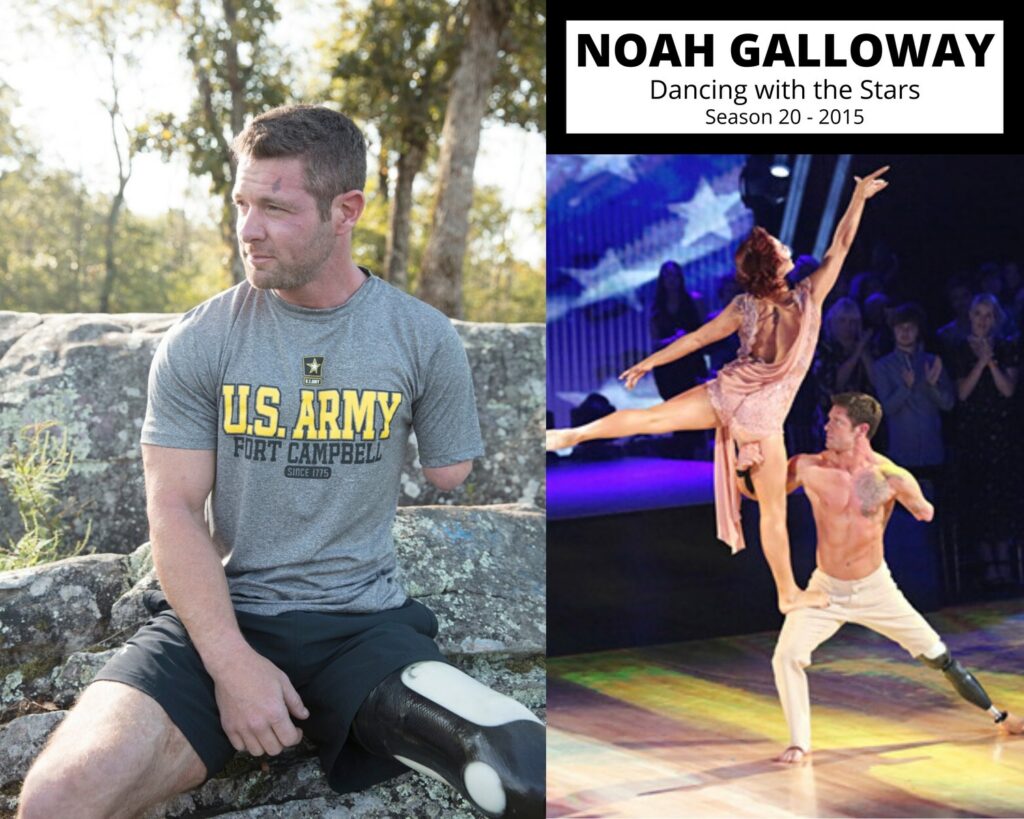 MUSICAL GUEST: MATT WILLIAMS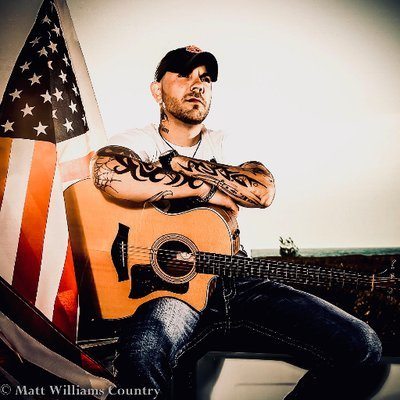 For more information about SDIA and our programs, please call 417-812-6035 or email us at Info@SheepDogIA.org.