SDIA's 12th annual #TurkeyTrotForHeroes 5K is TWO DAYS AWAY! Register today to #GetOffTheCouch and honor those who willingly put their life on the line for us every day – sign up at https://tinyurl.com/yxu9ta92 today!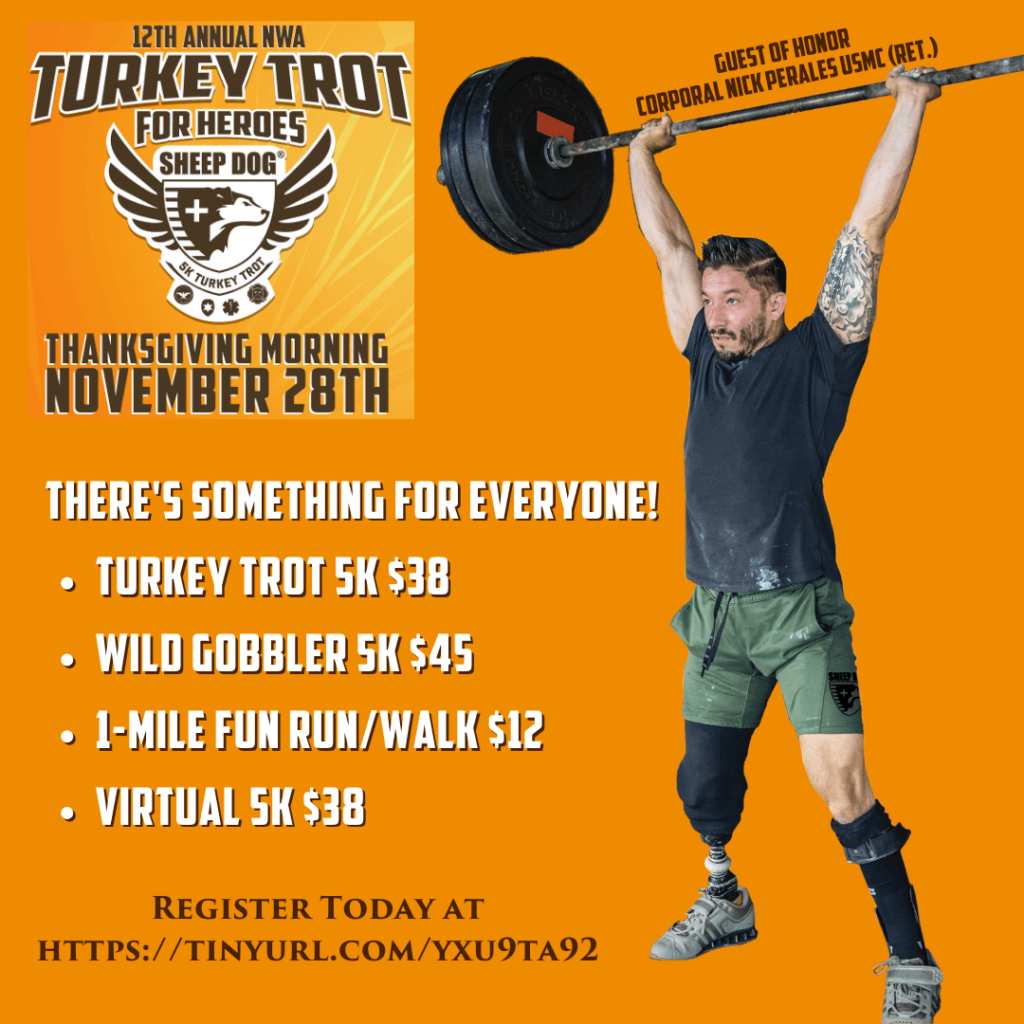 Our Turkey Trot for Heroes has something for everyone!
Turkey Trot is a standard 5K
Wild Gobbler is a 5K with five scalable CrossFit exercise stations throughout the route, each one honoring a Fallen Hero (see who they are below)
1-mile Fun Run/Walk is for families or those who want to participate without running a 5K
Virtual Run – if you're traveling or live outside NWA (or are not a runner!), you can still participate and support our mission by registering for this option!
No matter where you are, you can get your Turkey Trot on!

---
2019 FALLEN HEROES


Each year we honor five Fallen Heroes on our Wild Gobbler 5K route. At each station, there are scalable/modifiable CrossFit exercises that represent the Hero by the number of exercise repetitions. Thank you to Jerry Kelly at Crossfit Fireground Strength & Conditioning and Lisa Nunley for putting together these stations!
WILD GOBBLER STATIONS
Station #1 – Lundgaard EOW 5/15/19 – 5 jumping squats, 15 jumping jacks, 19 burpees
Station #2 – Stephen 25 years of service – 12 kettlebell swings (men 55lbs/women 35lbs, with other weights available), 13 mountain climbers
Station #3 – Cross age 43 – 20 sit ups, 23 air squats
Station #4 – Edmond 21 years of service – 21 push-ups
Station #5 – Meddock 75th Ranger Regiment – 3 Rounds Each: 10 ground to overhead with plate (men 15lbs/women 10lbs), 15 walking lunges
---
EARLY PACKET PICK UP


For those who registered before 5:00PM Nov. 25th for the Turkey Trot for Heroes or Wild Gobbler, you may pick up your race packet:
DATE: Tuesday and Wednesday, Nov. 26th and 27th
TIME: 4:00-7:00 PM
LOCATION: Center for Nonprofits at St. Mary's Lobby Conference Room (1200 West Walnut Street, Rogers)
Any registrations made after 5:00PM Nov. 25th will pick up their race packet at 8:00AM on race day.

RACE DAY INFO – Thursday, Nov. 28


Check in/Packet pick up will be available from 8:00-8:55AM in the Center for Nonprofits at St. Mary's Lobby (1200 West Walnut St., Rogers AR). The event will begin at 9:00AM.
Thank you for choosing to support Sheep Dog Impact Assistance and our nation's heroes through this year's Turkey Trot for Heroes